PHOTOS: The Best, Worst & Sexiest Fashions Of The Weekend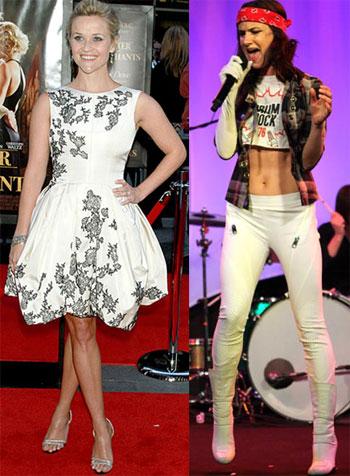 by Leah Ornstein
Radar Style & Beauty Editor
From Reese Witherspoon's first red carpet appearance as Mrs. Jim Toth to Ellen Pompeo's "stars without makeup" moment stars rocked and shocked on the fashion front over the weekend and RadarOnline.com has all the photos.
Reese got Jason Wu'd at the NYC premiere of Water For Elephants, wearing the fun and fab frock gorgeous gold Loubs, while Halle Berry got pretty in Roberto Cavalli pink at the Silver Rose Awards.
Article continues below advertisement
Juliette Lewis showed off her washboard abs‹unfortunately with a wardrobe whiteout‹while performing at the Evening of Women event, while Katherine Heigl sported a hippie look, which was way more frumpy than fashionable.
As for sexy style, Megan Fox rocked cutoffs and a baby-tee like a string bikini at the Toyota Grand Prix Pro Celebrity Race, while Gwyneth Paltrow showed off her bombshell bod in a Vionnet dress at another book signing.