PHOTOS: Nigella Lawson Cooks Up Beach Blunder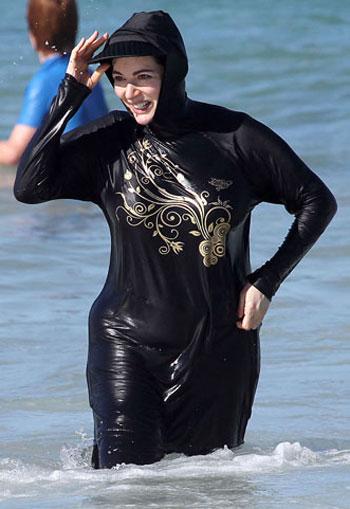 by Radar Staff Reporter
Sporting sun block on the beach is one thing, but foodie Nigella Lawson went radical on us!
Food Network host Lawson, 51, made a splash on Australia's Bondi Beach today when she hit the surf covered from head to toe in a baggy black Ensemble!
Strangely, the deliciously-curved Brit was accompanied by a friend wearing a more classic bikini.
Tart-tongued Aussie reporters already compared the domestic diva's outfit to a "burkini," a three-piece swimsuit designed to preserve the modesty of sunbathing Muslim women.
Article continues below advertisement
The celebrity chef and mother-of-three is Down Under to film a new show, Master Chef.
RELATED STORIES: