Leann Rimes Fires Back: 'I Do Not Starve Myself'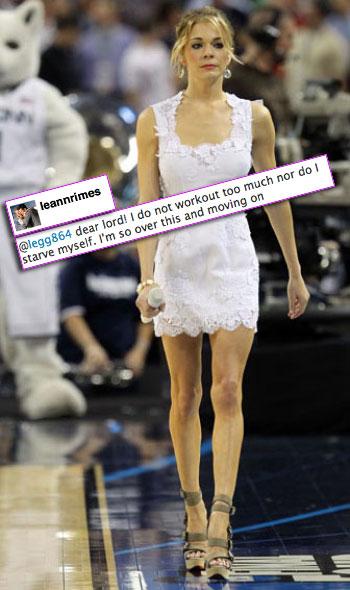 Country superstar Leann Rimes is firing back at criticism of her noticeably thinner frame exclaiming on Twitter, "dear lord! I do not workout too much nor do I starve myself."
"I'm so over this and moving on."
RadarOnline.com was first to report that the 28-year-old blonde bombshell, who's engaged to actor Eddie Cibrian, looked a shadow of her former fit self when she recently appeared at a basketball game in Texas.
Article continues below advertisement
She responded to fans questions via the social networking site.
"Thx for your concern," she Tweeted.
"To those who have to turn to other's lives and judge with no real knowledge of how anyone lives, you can you know what!" she Tweeted.
Controversy first surfaced about her appearance last month and Leann instantly went on the defensive.
She said: "Maybe it's time for a nude pic so peeps can see how I look nowhere near what these stupid pics are trying to make me look like, LOL #joke.