David Arquette: 'I Have 100 Days Of Sobriety Today!!!'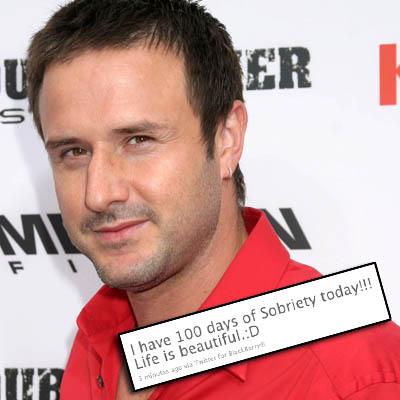 Now that's winning.
Scream 4 star David Arquette's trip to rehab looks to have slowed down the recently-seperated actor's life in the fast lane, RadarOnline.com has learned, as he tweeted Thursday, "I have 100 days of Sobriety today!!! Life is beautiful.:D"
Arquette entered into a rehab facility January 2, prodded to clean up his life thanks to an intervention by his sister Patricia and his estranged wife, Courteney Cox.
Article continues below advertisement
The charismatic actor, appearing on Oprah in February, said his partying roots went so deep, he remembered drinking beer at 4-years-old, and stealing marijuana from his father at 8-years-old.
"When I had my first drink of beer," the former pro wrestling champion, 39, told Oprah. "I was down in the basement with my dad and beer was there and I just grabbed it and drank it.
"And I remember that: It's one of my earliest memories."
Congrats to David, and check him out on the silver screen when Scream 4 hits theaters April 15.
RELATED STORIES: