Christina Aguilera Officially Single Again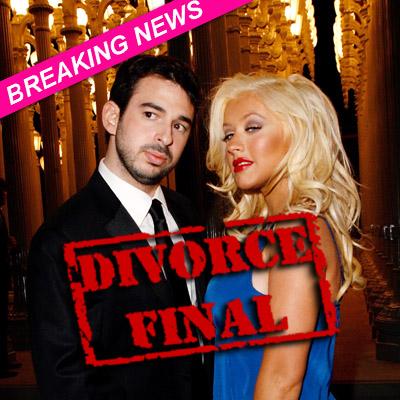 Songbird Christina Aguilera is a free woman.
COURT DOCUMENT: Read The Divorce Decree
The Burlesque star's split from her estranged husband Jordan Bratman was finalized Friday after the 6-month waiting period required in California.
Aguilera, 30, and Bratman, 33, were hitched in November 2005 in a romantic estate in California's Napa Valley. They separated last fall, and the singer was soon seen on the arm of 25-year-old Matt Rutler. He was an assistant on the set of Burlesque.
Article continues below advertisement
Aguilera filed for divorce from music promoter Jordan, who's the father of her 3-year-old son, Max, in October.
Since the break-up, the Beautiful singer has had several public missteps, including the mangling of the National Athem at the Super Bowl in February then fell after a group performance at the Grammys a weel later. Just last month, RadarOnline reported she was arrested, along with Rutler, on alcohol-related charges. She was cited for public intoxication and Rutler was charged with DUI.
MORE ON:
Christina Aguilera