THE WEEK IN PHOTOS: Brooke Mueller And Denise Richards Play Mom, Kate Hudson Shows Off Bikini Bump, Charlie Sheen Carries On 'Winning', Miley Cyrus Goes Postal & More!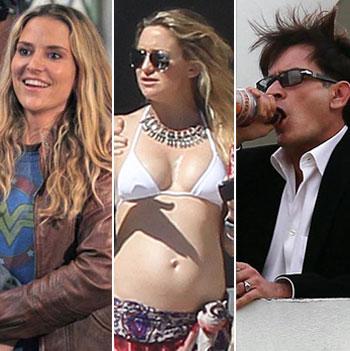 Brooke Mueller took her twin sons by estranged husband Charlie Sheen, Max & Bob, to The Grove shopping center on Saturday. Mueller is seeking out her closest friends Kathy Hilton and producer/writer Kevin Williamson for advice and support, as she works through a tough time.
Kate Hudson's baby bump looked healthy and growing as she vacationed in Mexico with the baby's father Matthew Bellamy Sunday. The Almost Famous beauty, who wore a white bikini during her excursion, told the U.K.'s Graham Norton Show in January that she and Bellamy "have a couple of names picked out for their unborn little one, but we're not telling anyone."
Article continues below advertisement
Courteney Cox and her 6-year-old daughter Coco Arquette were spotted swimming in Oahu, Hawaii on Sunday, after the actress wrapped up shooting her sexy ABC hit Cougar Town. The 46-year-old TV star showed off a svelte, shapely figure while lounging in a black bikini in the tropical paradise.
Despite the increasingly erratic behavior of her ex-husband Charlie Sheen, Denise Richards appeared to be taking it all in her stride, looking relaxed and happy as she took her two daughters with Sheen -- Sam, 6, and Lola, 5 -- out for grocery shopping Sunday at Maddy's Market in Calabasas.
Gisele Bundchen showed off her divine bikini body on Monday by the pool of the Fasano Hotel in her native Brazil, where she was to attend Carnival with her long-haired husband, New England QB Tom Brady.
The royal website released these never-seen-before pics of Kate Middleton in her younger days as a little princess-in-training on Monday. One of the images features bride-to-be Kate Middleton with her father and one of her sisters in a desert setting, as the family resided in Jordan from 1984-1986 for father Michael's work commitments, before moving back to their native England.
Article continues below advertisement
Desperate Housewives star Eva Longoria, clearly over her divorce from San Antonio Spurs point guard Tony Parker, was spotted with singer Eduardo Cruz, during a romantic lunch at L.A.'s famed Chateau Marmont Monday. The 35-year-old ABC star looks to have a fast-blossoming romance with the sexy 25-year-old brother of actress Penelope Cruz.
Brandishing a sword and carrying a bottle of so-called 'Tiger Blood', Charlie Sheen met with executives of Live Nation Entertainment on Monday to talk about the possibility of taking his act on a nationwide tour. The ex-Two and a Half Men star met with executives at Live Nation Entertainment in Los Angeles just an hour after Warner Bros. Television fired him from TV's highest-rated sitcom.
Karl Lagerfeld invited all of his most fashionable friends to check out his Fall/Winter 2011 collection for the iconic French label Chanel at Paris Fashion Week on Tuesday.
Prince William and Kate Middleton toured Belfast, Northern Ireland for the first time on Tuesday. William was debonair in a navy blue suit, while Middleton sparkled in a beige coat.
Brad Pitt was seen in costume on the New Orleans, Louisiana set of his upcoming flick Cogan's Trade Tuesday, sporting a slicked-back 'do with long sideburns and an all-black outfit on the set on the 2012 film, in which he plays a brutish mob enforcer.
Article continues below advertisement
Spring training is here, and Cameron Diaz was the loyal lady watching her boyfriend, New York Yankee slugger Alex Rodriguez, in his game against the Houston Astros . A-Rod's ex Kate Hudson famously watched the third baseman sizzle in the 2009 World Series (which the Yankees won), prompting Oprah Winfrey to tell her, "New Yorkers are thanking you!"
Charlie Sheen this week filmed a spoof for the comedy website Funny Or Die, a parody of a cooking show titled Charlie Sheen's Winning Recipes. In the skit, the embattled 45-year-old star wears an orange tiger-striped chef's hat and a cooking apron while espousing his views on cooking in a kitchen at his Sherman Oaks home -- i.e., the "Sober Valley Lodge."