Vanessa Hudgens: She's Sexy, Stunning -- And In Shape!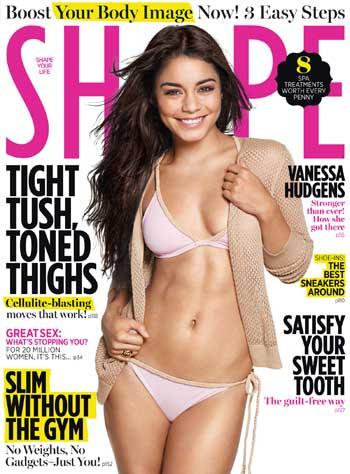 Vanessa Hudgens has definitely graduated from High School Musical sweetheart to luscious leading lady.
In the April issue of Shape, Hudgens, now 22, dishes on everything from her love of Cheetos -- to her love of fashion -- to her love affair with former 'High School' hottie Zac Efron.
Shape hit the gym with the brunette beauty and was amazed as she lifted 50-pound kettlebells -- part of her grunt-worthy routine to keep those rock-hard abs and killer curves.
Article continues below advertisement
But make no mistake about it -- Vanessa's flawless figure didn't come easy. It's the result of more than six months of hard training, five days a week, for her role in Sucker Punch, an upcoming action-fantasy film about a gang of kick-ass girls who escape a mental institution.
Vanessa says back in 2007, she was like many teenagers -- that is, she was addicted to junk food. "I was so unhealthy," she admits. "I used to go to Cold Stone Creamery, get a tub of Butterfinger ice cream, and eat it all before bedtime. And my fingers were permanently stained orange from Cheetos."
She says her 'aha' moment came while she was on tour with High School Musical that year. The company took a short break, so Vanessa stopped doing the rigorous dance routine for a few weeks. "When I came back, I almost couldn't get my costume on. When I finally got it zipped up, my boobs were up to my chin!" she says.
"The director, Kenny Ortega, saw me and said, 'Whoa, mamacita, look at you!' And I was like, 'I don't know where this came from!' But I knew. I lived on Hot Pockets and never touched vegetables; I needed to do something about my diet."
Article continues below advertisement
In addition to eating well and keeping fit, Vanessa is also passionate about fashion. "I'm really, really into fashion," says Vanessa, who recently became the spokeswoman for the Candie's clothing line. "I've always loved shopping and looking at vintage clothing. Right now, I'm pulling pictures from the sixties and seventies and studying women like Cher and Bianca Jagger for inspiration. It would take a while to get something going, but I want to do it. Designing is about being creative and having fun too." If you want a sneak peek at what her line might look like, search no further than Vanessa's own closet. "My style is boho chic. I love that time period -- the patterns, the prints, the people, the music, the vibe," she says. "I figure if you love something so much, you should at least give it a try. And you may end up making a living from it too!"
Around the time of her 22nd birthday last December, we all learned that Vanessa and Efron were ending their romantic relationship after four years of dating. "We grew up together," says Vanessa fondly. "It was nice to have someone to share all of those experiences with." The main reason seems to be their work schedules, which took them to different locations around the world. "Long-distance relationships are hard no matter what," says Vanessa. "When you don't have face-to-face time, it's just different. Having an iPhone helped, but it wasn't the same."
Article continues below advertisement
Despite the split, Zac has been visiting Vanessa on the set of her new movie, Journey 2: The Mysterious Island, and she says the two are still close pals. "It was a good thing," she says. "The relationship kept me grounded, and because I was with someone who knew me so well, I didn't need to try to be someone I'm not." And the peaceful parting left her with a healthy outlook on love in the future: "I hope by the time I'm 30 to have a husband and maybe a baby. I love children. They're so much fun, and I would have a blast spoiling them!"
Vanessa's new movie Sucker Punch opens Friday, March 25; right now, she can be seen on the big screen in Beastly, a modern re-telling of the classic Beauty and the Beast.
To read the entire interview with Vanessa, be sure to check out the April issue of Shape!