Put A Little Spring In Your Step -- In More Ways Than One!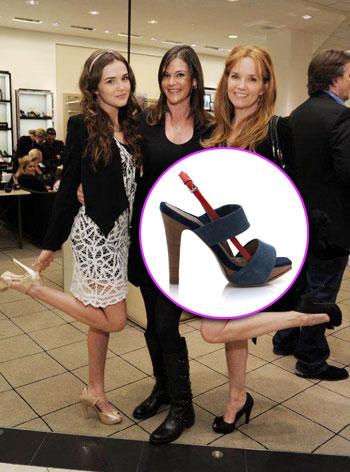 Fashion-forward and comfortable seems a little too good to be true when it comes to fancy footwear, so when we spotted this pair of Dana Davis Peony heels at the Los Angeles-based shoe designer's Bloomingdales bash last week, it seemed a little too good to be true.
Davis, a retired Kindergarten teacher who is also the daughter of Barbara and Marvin Davis, launched the Dana Davis collection when she couldn't find a pair of stylish, but comfortable heels.
Article continues below advertisement
The designer revealed to RadarOnline.com the events that led her to change careers from schoolteacher to stylista.
Davis, who was diagnosed with Type 1 Diabetes as a child, became plagued with Diabetes-related foot problems and had to quit her job due to the active duties in the classroom. After seeing her options and scouring tradeshows in search of a fashion forward shoe on the market, she decided to develop her own collection.
Consulting with a team of leading foot care professionals including top doctors and podiatrists and incorporating the latest footwear trends, she launched the Dana Davis collection to rave reviews.
Celeb fans include Penelope Cruz, Nicky Hilton, Jane Fonda and Anne Hathaway, all of who have been photographed in snazzy styles from the collection.
But only feeling is believing! We tried on these chambray and leather Dana Davis heels after removing a pair of stylish stilettos,
The collection ranges in price from $275 for pair of chic Holly moccasins to $450 for a pair of red carpet-worthy heels. For a list of retailers or to purchase online, visit the Dana Davis website by clicking here.