Playboy Party Draws Big Players From Worlds Of Film & Fashion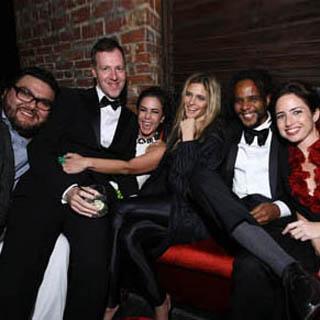 Among the lavish parties this past Oscar night in Los Angeles, Playboy's Salon Series sponsored by Bombay stood out as a sensational celebration of the iconic magazine's in-depth coverage of films, and the Oscar-nominated documentary, Waste Land.
Plenty of Hollywood's power brokers showed up for the event at Paul & Andre in Hollywood, including: Iain Canning and Gareth Unwin, producers of The King's Speech (which dominated the awards show, taking home best picture, best director, best actor and best original screenplay); The Kids Are Alright producer Ron Steinand; and Waste Land producers Jackie de Botton and Angus Aynsley.
Article continues below advertisement
In addition to the Tinseltown guests, a number of personalities from the world of fashion, such as designers Kym McClay and Alexis McClay were on hand for the event.
The party was sponsored by Bombay, which was well-represented at the swanky shindig with beautiful displays showcasing different concoctions you can make using their gin.
RELATED STORIES: