PHOTOS: Charlie's Girls Denise Richards, Sam & Lola Go Shopping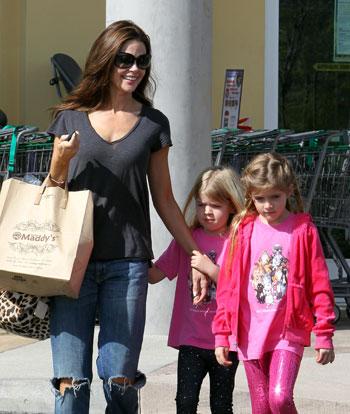 Despite the increasingly erratic behavior of her ex-husband Charlie Sheen, Denise Richards appears to be taking it all in her stride.
Looking relaxed and happy, the actress took their two daughters Sam, 6, and Lola, 5, out for grocery shopping Sunday at Maddy's Market near their home in Calabasas, CA.
The Wild Things star has kept surprisingly quiet about the recent troubles of her former husband, choosing to take the high road and not make any comment.
Article continues below advertisement
Charlie and Denise were married from 2002 to 2006 and have maintained a civil relationship since their divorce for the sake of their children.
Sheen is currently embroiled in a bitter custody battle with his third wife, Brooke Mueller, over their two-year-old twin sons Bob and Max.
Brooke last week obtained a restraining order against the troubled actor and had the two boys removed from his home by police.