PHOTOS: Bikinis! Abs To Die For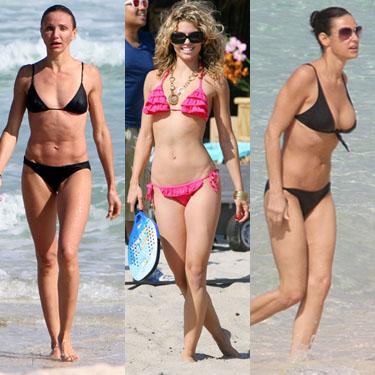 These sexy stars have no qualms about stripping off their designer duds and showing off their bikini bods -- because they have crunched their way to abfab perfection. From bigscreen babes to reality show vixens, RadarOnline.com has photos of Hollywood stars who have the most coveted midsections on the beach. Click the next sentence to see bikini babes who have abs to die for!
Article continues below advertisement
Cameron Diaz spent years strutting her stuff down the catwalk as a fashion model before she achieved bigscreen babe status, and at 38-years-old, the blonde beauty still has a flawless figure. Cam loves showing off her hot bod every chance she gets, so when it comes time to hit the beach, she isn't afraid of wearing the tiniest bikinis, putting her sensational six-pack on display.
Julianne Hough always rocked the sexiest costumes on Dancing with the Stars, but when the dancing diva sheds her blinging gear, that's when the real magic happens. Ryan Seacrest's sexy gal-pal has one of the most abfab figures around. All that sweating clearly pays off!
Click Here To See Julianne Hough's Smoking Hot Bikini Bod
It is no secret that Kristen Stewart is one of the highest paid actresses in Hollywood. The sexy Twilight star, who usually covers up in baggy clothes, recently added another stat to her bio—she is a smoking hot bikini babe. When you see Kristen looking white hot in her skimpy bikini, showing off the most amazing abs around, there will be no confusion as to why Robert Pattinson decided to sink his teeth into her.
Article continues below advertisement