PHOTOS: The Best, Worst & Wackiest Fashions Of The Week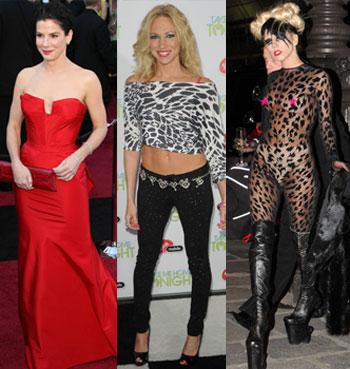 From the glam-packed red carpet of the 83rd Academy Awards to the streets of Paris Fashion Week, stars stepped out in the best, worst & wackiest fashions this week and RadarOnline.com has all the photos in our weekly feature.
Click Here To See Stars In The Best, Worst & Wackiest Fashions Of The Week
If looking good is the best revenge, then Jesse James must have been hurting on Sunday night when he saw Sandra Bullock looking red hot and ravishing at the Oscars. The actress, who was celebrating the year anniversary of her Blind Side Best Actress victory, was dressed to thrill in a Vera Wang strapless stunner, scoring herself the best look of the week!
Article continues below advertisement
So, we know that Take Me Home Tonight takes place in the 1980's, but why did Debbie Gibson have to resurrect her Electric Youth threads for the premiere of the period piece? The 1980's pop star paired an animal print off-the-shoulder crop top with sparkly leggings and teal eye shadow, resulting in a fashion flashback flop.
And Lady Gaga did her part in upping the wacky factor on and off of the catwalk during Paris Fashion Week. The sassy singer, who made her runway debut at the Thierry Mugler show, was spotted out and about wearing a totally sheer, animal print catsuit with towering platforms.
Other Oscar fashion highlights and lowlights? Gwyneth Paltrow looked sleek and sexy in Calvin Klein and Mila Kunis took bombshell to the extreme in a pale purple Ellie Saab gown, dripping in $500k of Neil Lane bling. Nicole Kidman wasn't so fashionably fortunate, experiencing a flop in an origami-like Christian Dior gown.
Victoria's sexiest Secrets brought their smoking hot style to Soho to launch the lingerie line's New Incredible Bra, while fellow Angel-turned-bigscreen babe Rosie Huntington-Whiteley rocked casual chic duds for a day of errands in Los Angeles.