NEW PHOTO: Kim Kardashian Is The Face Of Midori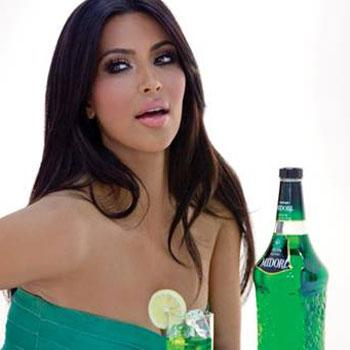 Kim Kardashian took to her Twitter account on Wednesday, to share the first promotional photo from her upcoming Midori campaign.
"So excited to be the new face of Midori! Loving the Super Sour cocktail," she tweeted, attaching the sexy of herself posing in front of a Midori bottle and cocktail.
The Kim and Kourtney Take New York star and the liqueur company announced the endorsement deal in late January, which is expected to begin in April.
Article continues below advertisement
As the face of Midori Melon Liqueur, Kim will be featured in advertisements and social media for the company, as well as make personal appearances for them.
Also on Wednesday, Kim debuted her latest single, Jam (Turn It Up) on. On Air with Ryan Seacrest.
"I was definitely nervous, this is something out of my comfort zone," Kim said, adding that the proceeds of the single will be donated to St. Jude's cancer charity.