'Minute To Win It' Host, Guy Fieri, Loses Out After $200,000 Car Is Stolen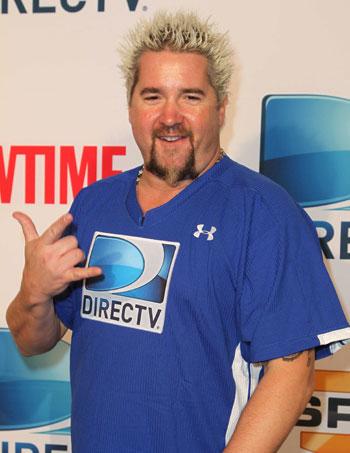 It only took a minute to lose it for TV host Guy Fieri, who has had his $200,000 Lamborghini Gallardo stolen.
RadarOnline.com has learned that the popular game show host and celebrity chef is hoping to land the thief in hot water after his beloved convertible was stolen from a dealership in San Francisco.
The elaborate heist took place in the early hours of Tuesday morning when the bold burglar rappelled into the luxury dealership, broke open the garage door and made off with the distinctive yellow sports car.
Article continues below advertisement
The cheeky thief was captured on surveillance footage speeding across the famous Golden Gate Bridge, but is yet to be caught.
It's a very distinctive car, for sure," said police officer Albie Esparza. "I don't know how far this person is going to go."
There have been several more sightings of the 2008 vehicle in the San Francisco area since it was taken.
Guy Fieri is famous for hosting NBC's Minute To Win It and has also hosted a number of other TV shows including Guy's Big Bite.