Michelle 'Bombshell' McGee Finds New Love Down Under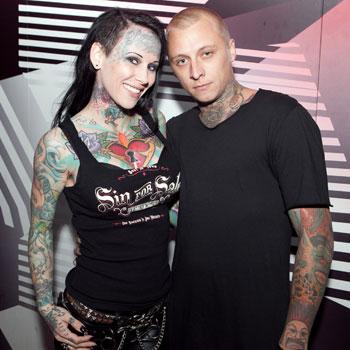 Jesse James' ex mistress Michelle "Bombshell" McGee is romantically involved with Melbourne, Australia native Luke Urek, RadarOnline.com has learned.
"We actually met through a mutual friend," McGee told the Herald Sun of her newfound relationship with Urek, who like her, is covered in tattoos. "I came down to visit Luke and arrived here last week, but have to leave on Sunday."
McGee said she recently partied with Urek in celebration of his 29th birthday, but "we didn't get a birthday tatt ... but we do have each other's names tattooed on each other."
Article continues below advertisement
McGee said that while she feels drawn in by Urek, a long-distance relationship will have to do for now.
"I love Australia, but my boys are back in the States. It works, Luke comes and visits me and I go and visit him."
McGee gained fame for her affair with James, with her confession eventually triggering a chain of events that would lead Sandra Bullock to leave The West Coast Choppers star shortly after her best actress Oscar win for The Blind Side. Their divorce was finalized last summer.