Khloe Kardashian's 'Dream Comes True'—Scores The Cover Of Cosmo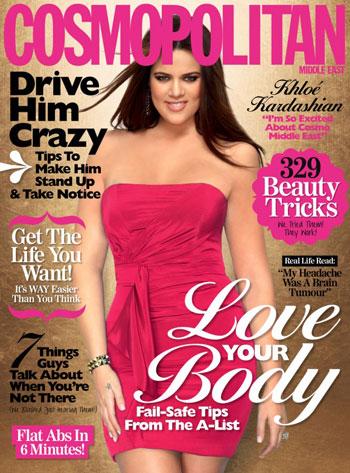 Kim Kardashian may have a slew of magazine covers to her name, but her little sister Khloe just scored the first-ever cover of Cosmopolitan Middle East!
The curvy star took to her celebuzz blog on Wednesday to share her excitement with fans.
"I am BEYOND excited to share with all of you my very first COSMOPOLITAN cover," Khloe exclaimed on her blog. "OMG!!!!!! This is honestly a dream come true! I died when I saw it."
Article continues below advertisement
The reality show star, who first saw the cover when she got off a flight to San Francisco with Kim and Kourtney, was shocked when the newly launched magazine approached her about the feature.
Never in my wildest dreams did I think that I would be on the cover of Cosmo because I never knew it was an option."
"When they sent me the email to be on the cover I said to my publicist, "I think you meant to send this Kim." LOL. She was like "No crazy girl! This is for you!" Not only is it such a blessing to be on the cover of Cosmo, but I am the FIRST cover girl for COSMOPOLITAN Middle East! What an honor!!!!! I'm honestly bursting with pride. I am truly blessed!"