Jodie Foster On Mel Gibson: 'He Is A Brilliant Man'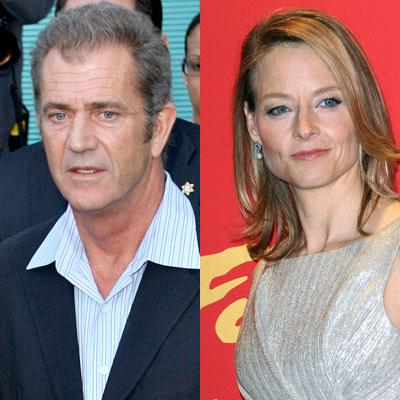 Jodie Foster, who directed Mel Gibson in The Beaver, calls the embattled star "a brilliant man, a beautiful talent, and a loyal, loyal friend" in an interview with AARP Magazine, and RadarOnline.com has all the details for you.
"From the moment I met him, there was such a connection that I knew we would be friends for the rest of my life," the Silence of the Lambs star told AARP The Magazine of her friendship with the actor, who's been a virtual non-factor in Hollywood since RadarOnline.com released the world exclusive tapes of the actor violently berating his ex girlfriend, Russian singer Oksana Grigorieva.
Article continues below advertisement
"We work exactly in the same way: No bull----. We've had so many conversations about the topics the film explores," Foster told the magazine. He is a brilliant man, a beautiful talent, and a loyal, loyal friend. That's the man I know."
In the upcoming movie, Gibson's character -- an executive going through a serious personal crisis -- adopts a beaver hand-puppet as his only way of communicating. Foster said that she cast Gibson in The Beaver, in part, because of the trials and tribulations that have kept the Lethal Weapon star in the headlines over the past five years.
"I knew he could relate so much to Walter's struggles that there was no way he would it as a comedy," she told the magazine. "That Mel's character be dramatically consumed in this internal struggle was very important to me."
Earlier this month, Gibson was sentenced to three years probation, 16 hours of community service and 52 court-ordered domestic violence counseling sessions as part of his sentence for a misdemeanor battery conviction for his January 2010 attack on Grigorieva. Gibson turned himself in to be booked March 16, the very same night the film premiered at the SXSW Film Festival in Austin, Texas.
MORE ON:
Oksana Grigorieva
Article continues below advertisement
While introducing the film, Foster said, "I just have to ask everybody, can you see a film and appreciate the artist for his work? And if anything, I think anybody who comes to see the film and understands Mel's extraordinary performance in the movie can't go away untouched by his humanity.
"If there's a message to the movie it's that you don't have to be alone -- the truth is that the great remedy for that is connection."