George Clooney Says It's 'Odd' He Could Be Named As Witness In Italian Leader's Sex Trial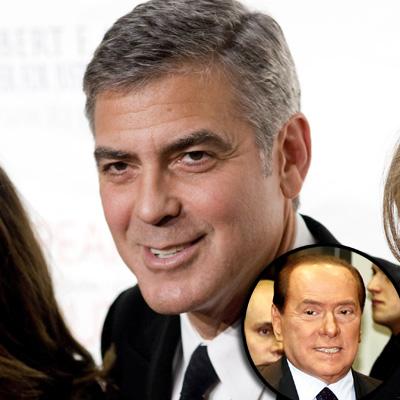 A-lister George Clooney says it's "odd" his name has been bandied about as a possible witness in next month's sex trial of Italian prime minister Silvio Berlusconi, claiming he only met the leader on one occasion, in an entirely different context from any of the accusations.
"It seems odd since I've only met Berlosconi once and that was in an attempt to get aid into Darfur," the hunky 49-year-old said in a statement to the Associated Press, RadarOnline.com has learned.
Article continues below advertisement
More than 75 others were named as possible witnesses, including sports stars, showgirls and politicians.
The 74-year-old leader stands accused of paying for sex from an underage Moroccan girl, who said she saw the Ocean's Eleven star (who has a home in Italy on Lake Como) and his model girlfriend Elisabetta Canalis (also named as a possible witness) at a dinner party Berlusconi hosted at his home.
Attorney Piersilvio Cipollotti told the AP authorities want to speak with the superstar couple "to see if they confirm this fact or not."
Berlusconi's trial begins April 6.
RELATED STORIES: