EXCLUSIVE VIDEO INTERVIEW: Lacey Schwimmer On New Dance Partner: 'I've Seen Every Part Of His Body'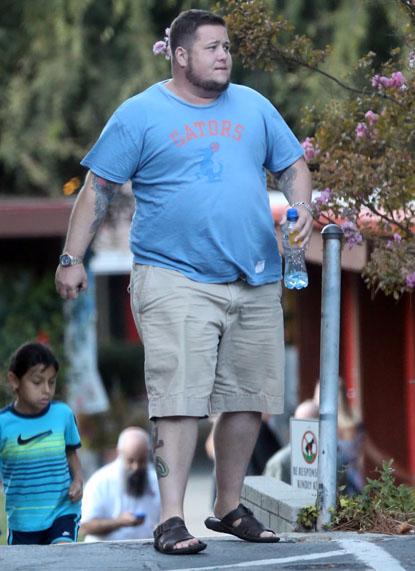 It looks like a Dancing with the Stars love connection is heating up once again -- before the show even premieres!
The hit reality phenomenon is famous for it's couplings, and RadarOnline.com can exclusively reveal that Lacey Schwimmer and her partner, KROQ host Mike Catherwood are already looking like this season's most steamy twosome.
Lacey gushed about the couple's "connection whether we want to admit it or not" and confessed to having seen every part of his body!
Article continues below advertisement
"He's hot! He's really hot," she told RadarOnline.com exclusively while getting her hair primped for Monday's premiere at famed Beverly Hills Gavert Atelier salon.
"He's super sweet, super fun, good guy, very genuine, he's also just kind of a goofball, and I think people if you don't know who he is you're going to after the first week. It's going to be really exciting."
The dancing duo even has a lot in common, Lacey reveals.
"He's a very funny guy, he and I share the same kind of humor, we both cuss like sailors, we both have this dirty humor...
"So I've seen every part of his body whether I've wanted to or not," Lacey confesses with a smile, as she was transformed from short brunette locks to long blonde curls.
"And he finds it hilarious to see my reactions when he shows me gross things on the internet. So most of our rehearsals are of us laughing or tackling each other or me trying to pinch him so he bruises."
Article continues below advertisement
So what exactly has she seen?
"You don't want to know. I've seen everything, let's just put it that way," Lacey laughs.
"We definitely have a connection whether we either want to admit it or not...but right now I think we're just focused on the show and trying to get that done and hopefully not get voted off," she said with a smile.
But their banter, Lacey insists, is just a playful flirtation - because Mike actually has a girlfriend!-- but she quickly gets coy - and flustered! - when asked about their future as a potential pair off the dance floor.
"You know, I don't know, here's the thing...he flirts all the time, however, he has a girlfriend and I'm fully respectful of that...and we'll see what happens, whatever, you're getting me all flustered!"
But she admits they have the right chemistry.
"We'll see, we'll see...yeah, he's a great guy and I think we would make a great couple, however, that's not the situation right now and we're definitely not focusing on that.
Article continues below advertisement
"You're around these people every day for hours on end and you get to know them so much faster than you would be dating someone.
"So it's kind of a unique experience you get to know each other so much faster - you feel like you've known them for years...I'm friends with all my partners."
So will fans witness a love match starting Monday during the season 12 premiere?
"No, no, not yet...we're very playful and flirty at this moment...regardless if anything happens or not he and I are very good friends and I think we will remain friends for a long time..."
Well, they don't call Mike "Loveline's Lover Boy" for nothing. His feelings also extend to other cast members of the hit ABC show.
"He thinks Petra Nemcova is hot and he wants to make out with Chelsea Kane and do stuff with Kendra Wilkinson...he has no shame in his game whatsoever," Lacey laughs.
"He loves the women on the show, on and off screen.
"He tries so hard to hit on them and they just laugh at him...you can't take him too seriously."