EXCLUSIVE CHILDHOOD PHOTOS: Rocker Phil Varone When He Was Ink Free & Innocent!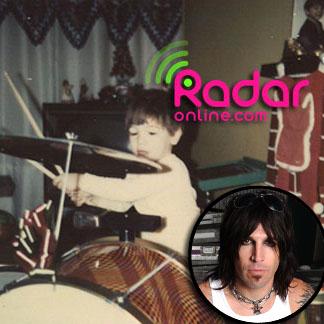 When you see a famous rocker covered in tattoos tearing it up on stage, it's hard to believe they were once a cute little kid, and it's even more difficult to imagine when they're gracing the cover of Playgirl magazine!
But even the baddest of bad boy rockers started off sweet and innocent, and RadarOnline.com has obtained exclusive photos of ex-Skid Row drummer Phil Varone to prove the point.
In our first photo of the musician, who played drums for rock band Saigon Kick before hooking up with Skid Row for four years between 2000 and 2004, can be seen at the tender age of 2 already pounding away on his first set of drums.
Article continues below advertisement
The Long Island native is self taught on the drums and credits his skills to listening to his favorite bands and drummers.
In a second shot, a ten year old Phil can be seen Christmas morning with a huge smile and a train set in the background. In another picture taken the same year, you can see Phil's playful side, as he makes snow balls on the grill!
Then there's a shirtless, teenage Phil posing on the floor, showing off his smooth, tattoo-free chest and sporting the long rocker hairdo he was once famous for.
Today, the famous drummer sports a shorter haircut and is striking a rather more adult pose - as this quarter's Playgirl Magazine cover model!
In addition, he has joined forces with two other former Saigon Kicks band members to search for a singer to join them as they plan their big comeback and is also the creator and host of the Sex Stand Up Rock and Roll Show - a variety show combining comedy and rock with audience participation.
Article continues below advertisement
But the reformed sex addict is most passionate about his work on behalf of his charity Clear View Treatment Center a non-profit residential treatment program providing services to thirty adolescent boys ages 13-17.
Over the years CVTC, has been successful in changing the lives of young men, in way of providing them the tools needed to be a productive member of society. Often times, these boys walk through the door with nothing more than the shirt on their backs, leaving behind their past lives of gangs, drugs, and abuse.