Exclusive
EXCLUSIVE INTERVIEW: More Than Friends? Dad Of Courteney Cox's Co-Star: They Make a Good Looking Couple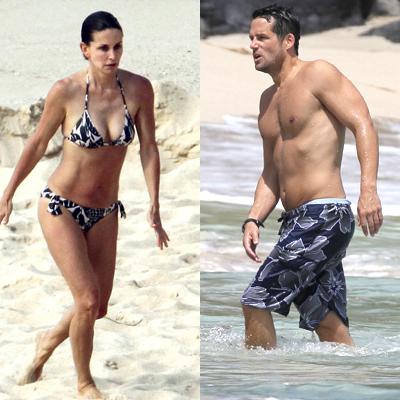 Courteney Cox and her Cougar Town co-star Josh Hopkins set the romance rumor mill spinning after being photographed frolicking in the French surf together.
Reps for the two are denying they're lovebirds, insisting they are just FRIENDS.
But one person that would give a definite thumbs up to a new romance is Josh's politician dad, who told RadarOnline.com in an exclusive interview: "I would approve of it."
Article continues below advertisement
"They are both very good looking people," the hunky actor's dad, Larry Hopkins, a seven-term U.S. Congressman said.
The Kentucky Congressman said he doesn't know for a fact if his son is dating Cox, but says he always speaks very highly of the older actress.
"I know he likes her and is very fond of her. He's said she's a very nice person," Hopkins said.
"If he approves of her, then I approve of her."
Cox, 46, and Hopkins, 40, play on-screen lovers in the hit show and photos of them walking on the beach together and playing in the Caribbean Sea in St. Bart's suggest their fictional relationship has become a raunchy reality.
It's not the first time that 6'2" Josh has romanced an A-list actress -- he went on a series of dates with Courteney's BFF Jennifer Aniston last year after they met on-set following her cameo on the show.
"I know he went out on some dates with Jennifer Aniston, but I don't know any of the details," Larry confirmed.
"I assume everyone he dates is serious."
Along on the tropical trip were Courteney's six-year-old daughter, Coco, and mutual friends of the couple from the show.
Josh has no kids of his own but his dad says he's a family man at heart: "I know he's very good with children and gets along with them really well. He's really good with all his younger relatives."
Cox separated from husband David Arquette last October after 11 years of marriage amidst rumors that she was dating another Cougar Town co-star, Brian Van Holt.
RELATED STORIES: