Exclusive
EXCLUSIVE INTERVIEW: Michael Lohan On Felony Domestic Violence Arrest: 'I Didn't Touch Her'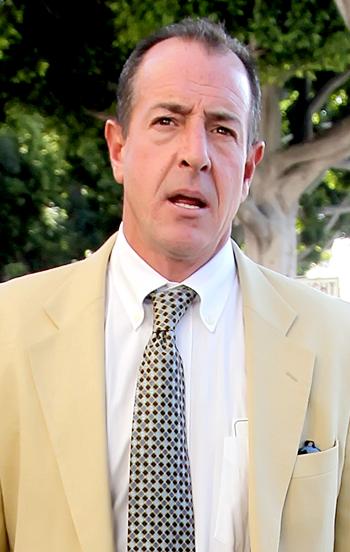 Speaking exclusively to RadarOnline.com from his hospital bed in Los Angeles, Michael Lohan defended himself against charges of domestic violence that resulted in his arrest late Monday night.
"I didn't touch her," Michael adamantly told RadarOnline.com about the accusation by Kate Major who said he assaulted her. "I didn't do a damn thing to her."
EXCLUSIVE DOCUMENT: Michael Lohan Arrested -- Read The Police Report
Article continues below advertisement
Michael was arrested by the Los Angeles county sheriff's department Monday night after Kate filed the police report. He was arrested for three felony charges of domestic violence: preventing the report of the victimization, false imprisonment and inflicting corporal injury on a cohabitant. After complaining of chest pains he was taken to Cedars Sinai Medical Center where he remains under arrest. He has a police officer in the room with him.
He vehemently denied the charges to RadarOnline.com and blamed alcohol for Kate's behavior and said when she visited him at the Pasadena Recovery center she was intoxicated and the staff did an intervention for her and Kate agreed to go into the program at Cry Help. However, she had not yet decided to enter treatment, according to Michael and remained at his West Hollywood apartment.
"Yesterday I went to all my therapy meetings and went to the house and Kate was there. She's been staying at my place. It's a lie that she wasn't staying there. She wanted to go out to dinner but I said no, I'd rather go to Blockbuster and bring food home so she wouldn't drink at the restaurant.
Article continues below advertisement
"When we got back to the house after Blockbuster she was in the bedroom and I was cooking dinner when she started screaming. She was yelling 'what the f**k is this? You're a piece of s**t. Who is Maryann Mancuso?' and that is a friend of mine.
"She was holding my phone and I grabbed it away from her and she had something sharp in her hand and she grabbed my arm and slashed my arm open.
"I told her to get out of here, you get your stuff and get out of here right now. I should have listened to my counselors and everyone else. I then said to her by the way, now I'm calling the cops. I put my shoes on and she left.
"She said I gave her a fat lip, she has Restylane in her lips. I didn't give her a fat lip. She did the same thing in West Hampton. I didn't touch her, she's full of crap. I have cuts on my arm. She put fake makeup on her eyes before.
"Kate drove to the police station. She was drunk when she drove to the police station. I called the police, I called 9-1-1, and said I wanted to press charges on my girlfriend. They connected me to the West Hollywood station and they asked where I was. I said I was on the street walking towards the police station and I flagged down a police car.
Article continues below advertisement
"I just got out of Celebrity Rehab for co-dependency and that's the last thing I wanted. This was all a set up. When my lawyers resolve this with the police and I prove this is all a set up the world is going to know about Kate Major."
Michael told RadarOnline.com that he will remain in the hospital for further medical treatment.
"They're doing a stress test today and if it doesn't come out right they're putting stints in tomorrow. My arteries keep closing when I get stressed."