EXCLUSIVE DOCUMENT: Michael Lohan Arrested On Domestic Violence Charges, Hospitalized -- Read The Police Report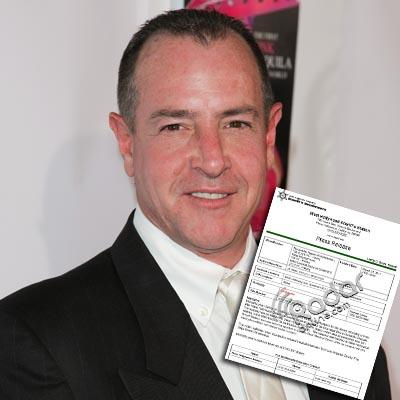 Michael Lohan was arrested in West Hollywood late Monday night, RadarOnline.com has learned, in connection with three felony charges of domestic violence: preventing the report of victimization, false imprisonment and inflicting corporal injury on a cohabitant.
EXCLUSIVE DOCUMENT: Michael Lohan Arrested -- Read The Police Report
According to the police report, Lohan, 50, was named as a suspect when his girlfriend (who authorities did not identify) walked into the West Hollywood Sheriff's Station to report an incident of domestic violence that took place in a nearby apartment. Lohan was picked up by authorities at around 9 pm PT while he was walking in the 8800 block of Santa Monica Boulevard, according to Sgt. John Ratto.
Article continues below advertisement
RadarOnline.com has confirmed the girlfriend involved in the domestic violence incident was Kate Major.
Sgt. Michael Thomas of the Los Angeles County Sheriff's Department tells RadarOnline: "Nothing indicated that Mr. Lohan was intoxicated. He was very cooperative."
Lohan was in the process of being booked at the West Hollywood Sheriff Station when he starting complaining of a medical condition not related to the incident; he was then transported to Cedars-Sinai Medical Center in Los Angeles, where he has been admitted. Police tell us upon his release, Lohan will be taken back to the Sheriff Station where the booking process will continue -- meaning he will be fingerprinted and have his mug shot taken.
The victim, according to police, suffered minor injuries, but refused medical attention from Los Angeles County Fire Department paramedics at the scene.
Lohan's bail has been set at $200,000, police said. (An interesting footnote: within the police report, it identifies Michael as "father of Lindsay Lohan.")
Lohan's past girlfriends Erin Muller and Kate Major have both accused him of perpetrating violent acts against them during their respective relationships.
Article continues below advertisement
Muller accused Lohan of a dozen attacks on her, including a May 2008 incident in which, she claimed in court papers, Michael "kicked her in the vagina, bruising it and causing substantial pain." The Muller case was dropped by a New York court in April 2010.
Major said that in a July 2010 incident, the father-of-four shoved her and kicked her in the face while she was on the ground. She dropped the charges in a New York court the next month.
Lohan is currently in Southern California, filming the upcoming season of VH-1's Celebrity Rehab, where he hopes to overcome anger management issues under the watchful eye of Dr. Drew Pinsky.
Just last week, Major and Lohan got into a squabble during a botched attempt to reconcile their friendship in a therapy session on the set of the show. Major told us during that encounter, Lohan punched a female acquaintance in the face.
Article continues below advertisement
"I was very emotional, and I was very, very scared," Major told RadarOnline.com exclusively. "The producer tried to get me into his car, along with Michael but I was very fearful, I would not be in the same car as him because of past physical abuse."
"I have been living out of fear for a year and a half," Major said. "This man obviously isn't in there for anger management, he is in there for a lot more issues and I refuse to put up with this anymore.