Exclusive
EXCLUSIVE: American Idol's Stefano Langone Arrested For DUI -- See His Mug Shot & Read The Police Report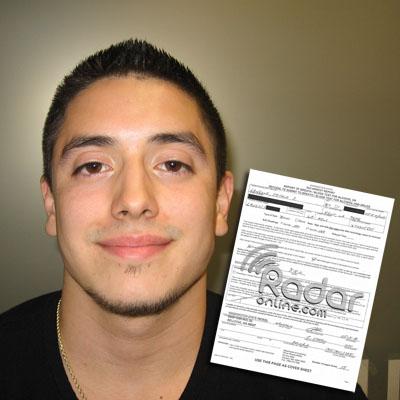 American Idol top 11 contestant Stefano Langone has battled his way through the competition despite nearly losing his life in a 2009 car crash caused by a drunk driver, but RadarOnline.com has uncovered a police report and mug shot after the singer was arrested just last year for driving under the influence himself in Seattle.
EXCLUSIVE DOCUMENT: Stefano Langone Arrested For DUI -- Read The Police Report
Article continues below advertisement
According to the Washington State DUI Arrest Report exclusively obtained by RadarOnline.com, Langone was pulled over and arrested at 2:35 a.m. on May 16, 2010 in Kent, Washington.
Langone, 21-years-old at the time of the incident, submitted to a breathalyzer test in which he blew .098 in the first sample and .088 in the second sample, both above the legal limit, as well as failed numerous field sobriety tests.
Arresting officer Christopher Storton observed Langone's coordination as "poor" and said he "fumbled for driver's license" and also noted that his eyes were "droopy" and "bloodshot" with "repetitive" and "slurred" speech.
"I could smell a strong and obvious odor of intoxicants coming from the vehicle," Storton wrote.
"On Langone's right wrist, I observed two stamps that were consistent with entry to a club or bar...Langone stated that he had one beer several hours earlier."
Article continues below advertisement
It appears that Longone wasn't sure what he'd drank though or where he'd been, at one point telling Storton he'd been drinking Long Island Iced Teas and was "not sure what bars" he'd been at.
He also couldn't properly recite the alphabet answering, "A, B, C, D, E, F, H, H, I, J, K, L, M, N, O, P, Q, T, V, W, J, K, L, sorry, I'm nervous, R, S, T, U, V, W, B, C, D, Y, Z," but singing is in his blood -- Officer Storton noted that once he was handcuffed and being transported in the patrol car, "Langone began singing."
Langone was released from King County Jail on $500 bail and eventually walked away without having to serve time on the condition that he keep a clean record for the next two years and attend an alcohol and drug information course.
Shockingly, just one year prior, Langone was the victim of an alcohol-induced car accident himself -- an accident which left him with two broken arms that now have metal plates and screws in them and a broken pelvis.
Article continues below advertisement
"It's been a long road...I was in an accident that changed my life unfortunately for the worse," Langone said during his American Idol audition.
"I woke up to a firefighter, and I'll never forget, he looked down at me and screamed to the EMT's, 'He's alive, he's alive!'
"They told me that I wouldn't be able to walk or write or be the same and I got on my feet in less than four months."
The 22-year-old is now a fan favorite on Idol after being saved by judge Jennifer Lopez during a Wildcard round.