Exclusive
EXCLUSIVE: Cops Called To New Orleans Restaurant After Incident Involving Nicolas Cage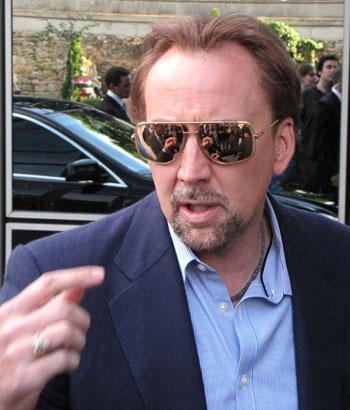 Oscar winning actor Nicolas Cage had to be escorted back to his New Orleans hotel after an alleged bust-up at a swanky 'Big Easy' restaurant, RadarOnline.com has exclusively learned.
Police were called to Stella on Chartres Street at 10.45pm on Friday night after a window was broken at the venue.
VIDEO: Nicolas Cage Goes Nuts... And It's All On Tape
Cage – who was in town to celebrate Mardi Gras – was then taken back to his nearby hotel for his "own safety," the New Orleans Police Department told RadarOnline.com.
Article continues below advertisement
"We can confirm that we did respond to an incident at that location on Friday night at around 10.45pm and that Mr Cage needed some assistance to go back to his hotel," Officer Juan Barnes told RadarOnline.com.
"A window was found to be broken at the restaurant but the owners decided it was an internal matter and that they would handle it.
"There was no formal complaint or charge written-up."
The cops couldn't confirm if Cage had been drinking or not and management at Stella had no comment to make about the incident.
The Ghost Rider actor was caught on video swearing and acting aggressively outside a club in Bucharest, Romania, in December.
The actor was caught on tape yelling: "Get in that car and walk away," the Honeymoon In Vegas star is yelling in the video. "I'll f*****g die because of honor. I'll f*****g die right now! 'Don't touch me you little b****!"
"See my eyes," Cage said. "Respect them as you'd respect me!"
Article continues below advertisement
It's the latest incident involving the actor who is reportedly facing financial ruin as he owes more than $6 million in unpaid taxes.
His new movie Drive Angry 3D bombed at the box-office taking in a disappointing $5.1 million in ticket sales coming in 9th place on its opening weekend last month.
RELATED STORIES:
EXCLUSIVE: Nicolas Cage Owes Nevada Bank Over $2.5 Million