EXCLUSIVE AUDIO: Charlie Sheen's Antics Immortalized In Song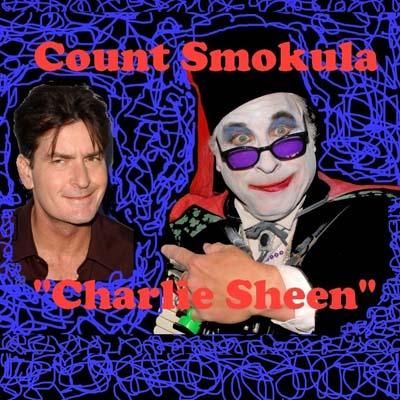 First he sold out the legendary Radio City Music Hall in New York, and now Charlie Sheen could be the subject of a number one hit record that will really have him yelling: "Winning!"
EXCLUSIVE AUDIO: Count Smokula Immortalizes Charlie Sheen's Antics In Song
Los Angeles based producer and musician Smokey Miles AKA Count Smokula -- who has penned music for 'Balloon Boy' father Richard Heene in the past -- has written a song entitled: "Charlie Sheen" in tribute to the notorious actor, and RadarOnline.com has the exclusive audio.
Article continues below advertisement
Smokula was moved to pen his song after Sheen was axed from his hit sitcom Two and a Half Men and went on his subsequent media blitz.
He told RadarOnline.com: "Charlie's got the earmarks of a true Smokesylvanian. We'll have to examine his ears to see if that is true. In the meantime, good luck to Charlie on his upcoming tour, and if he needs me to sing on it, I'm available. We'll have good clean fun!"
The lyrics for Charlie Sheen are:
Charlie Sheen is a wild human being.
He talks lots of the time about drugs and sex and Chaim he lives inside a mansion with his hot and sexy friends. "I am clean!" says Charlie Sheen of Two and One Half Men.
Charlie goes on TV shows, the numbers go sky high. And look at all the twittering about that gnarly guy. The press is in a frenzy, buzz about him with no end.. as in every bar about the star of Two and One Half Men.
Article continues below advertisement
Chorus:
Oh Charlie you got troubles, thank goodness they're not mine I'd love your dough, and it's true, y'know your women all look fine you rant and rave and we watch, bewildered at what you do Oh Charlie Sheen you made a scene and your ratings just grew!
One day he might get calmer, if not totally insane after all the booze and coke and dope, tiger blood is in his veins In the meantime it's amusement, a bit nuts but that's the trend I'll continue my perusement of Two and One Half Men.
Chorus (repeat)
Spoken: CBS says you're through...but you're a winner!
With his acting career temporarily stalled Sheen intends to embark on a live show My Violent Torpedo of Truth around the country. He has sold out two dates at The Radio City Music Hall in New York.
The actor recently added five more dates to his tour after two shows in Chicago and Detroit also sold out. The 45-year-old will also perform in Ohio, Connecticut and Boston.
Article continues below advertisement