Dior Fires Designer John Galliano After Racist Video Surfaces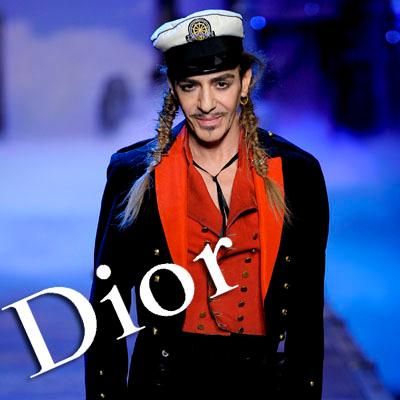 Famed designer John Galliano, seen Monday at a police station in Paris, France, has been fired by Dior in the wake of accusations -- and video evidence -- of his hatred of Jewish people.
"Today, because of the particularly odious nature of the behavior and words of John Galliano in a video made public this Monday, the Christian Dior house has decided to lay him off immediately and has begun firing procedures against him," the company said Tuesday.
Article continues below advertisement
Galliano was at the police station on Monday to speak with investigators over an incident last week, when a couple claimed he shouted anti-Semitic epithets at them.
Following the publicity stemming from that incident, the UK Sun on Monday published a video taken from a separate incident, in which Galliano publicly declared his love for Adolf Hitler.
Haute Or Not: Christian Dior Couture Spring 2010
"People like you would be dead," he said toward someone he thought was Jewish, in the video. "Your mothers, your forefathers, would all be f------ gassed."
The viral video prompted the designer's quick dismissal. He was previously suspended as the company sought to investigate the claims of anti-Semitism.
Also on Monday, white-hot Academy Award winner -- and Dior endorser -- Natalie Portman made it clear to the design house she'd be leaving them if he were kept on the payroll.
"I am deeply shocked and disgusted by the video of John Galliano's comments that surfaced today," Portman told The New York Times in a statement Monday. "In light of this video, and as an individual who is proud to be Jewish, I will not be associated with Mr. Galliano in any way.
"I hope at the very least, these terrible comments remind us to reflect and act upon combating these still-existing prejudices that are the opposite of all that is beautiful," the Black Swan star said.
RELATED STORIES: