DC Cupcake Girls Build Giant Bra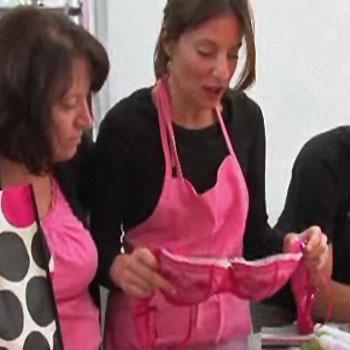 The bakery babes of DC Cupcakes are helping to raise money for a breast cancer cure and in the upcoming episode of the reality show they're building a giant pink bra for the cause.
In this sneak peek obtained by RadarOnline.com, Georgetown Cupcake owners Sophie LaMontagne and Katherine Kallinis have teamed up with Susan G. Komen for the Cure and are building a huge pink bra cake in addition to over 2000 Pink Ribbon Cupcakes for the walkers at the event.
Article continues below advertisement
The sisters of course are teasing each other, and after Katherine goes shopping for almost a dozen sample sexy bras she tries to convince Sophie to wear a tiny little pink one for her husband.
"You can wear this one for Steve, isn't his birthday coming up?" Katherine jokes.
The sisters are supporting Susan G. Komen for the Cure by donating 100 per cent of the purchase price of the Pink Ribbon cupcakes to the charity, with a guaranteed minimum payment of $50,000.
"We lost our grandmother to cancer and we thought this would be a great way to show our support," Katherine revealed.
DC Cupcakes airs Friday at 10/9c on TLC.
RELATED STORIES:
EXCLUSIVE DOCUMENTS: Farrah's Last Wish