David Arquette On Courteney Cox: 'We Really Love Each Other ... Life's Complicated'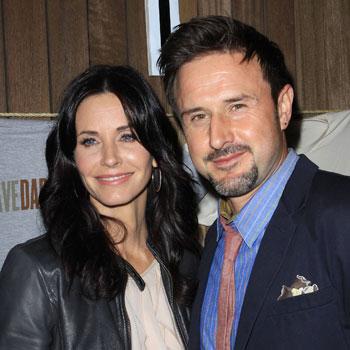 If you're looking for the mudslinging, finger-pointing and "he said, she said" drivel that typically accompanies a Hollywood break-up, don't bother with Courteney Cox and David Arquette.
The separated couple, who share a 6-year-old daughter named Coco, have been nothing but complimentary of one another -- both as people and as co-parents -- on the promotional trail for their upcoming film Scream 4, and RadarOnline.com has all the details for you.
Article continues below advertisement
"The great thing is that we really love each other and that we're really amazing parents together, very supportive -- I'm her biggest fan and she's my biggest fan. You know, that's what it's all about really," Arquette told ET Wednesday of his current rapport with Cox.
Part of the reason the separated lovers have gotten along so well, according to Arquette, can be traced to a period of self-discovery for both he and Cox after their October 2010 break-up.
"We're separated, we're working on ourselves and our relationship, and sort of figuring out what we want," he said. "You know, life's complicated and people go through changes. And I've been reading a lot of things about myself, reading books that talk about feelings and changes, and she's been working on herself a lot too."
He said that despite the brewing problems with their marriage during filming, he's elated with onscreen chemistry he shares with Cox in Scream 4.
Article continues below advertisement
"I really love acting with Courteney. I always have fun. It's always, you know, we're really loose and it's easy to feel real, like they're real moments. That's my favorite part about acting, when you connect with something where it feels like, you know, you can actually believe it inside."
Cox told the program she's been comfortable working alongside her ex as they promote their upcoming movie.
"It was very easy, we really respect each other and we help each other," Cox said. "I mean, I respect his opinion so much that I'm always asking him 'What do you think?' I think it's very easy, it's very, very easy to work with him."
Scream 4 hits theaters April 15.
RELATED STORIES: