Courteney Cox Dishes On David Arquette Breakup, Denies Romance With Co-Star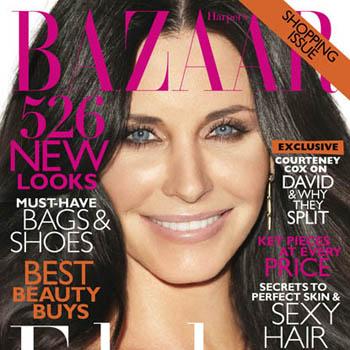 Courteney Cox dishes on the past and present of her love life in April's edition of Harper's Bazaar, discussing why she holds no hard feelings for David Arquette for calling into The Howard Stern Show to talk about their split, how she's changed as a person and the rumors she's dating her Cougar Town co-star Brian Van Holt.
Cox said she wasn't upset with Arquette after he called The Howard Stern Show following the announcement they were calling it quits last autumn.
Article continues below advertisement
"You can't really get mad at David because he's not a malicious person," Cox told the magazine. "He was dealing with things the best way he could. And don't get me wrong, he was on a show for entertainment. David is smart, and David is also a showman. He knew what he was doing.
"I don't know what's going to happen, but I don't think he'll be doing more Howard Stern any time soon," said the 46-year-old Alabama beauty. "He's not out to harm. But I'm his biggest protector. I can't help it."
Cox said her breakup with Arquette might have been the result of changes within her as a person, and what she's looking for out of life as she ages.
"The thing is, when you get older, it's more about compatibility than it is about love," she said. "I think it's more about needing just a kind of peace and stillness. I'm kind of all over the place, and I need grounding. I want to be calm. I want to change a lot. I want to live not outside but inside.
Article continues below advertisement
"It's nothing with David; it's just what I'm searching for," she said.
As for Van Holt, she denied having a fling with her hunky co-star.
"He's a really good friend of mine, so I don't care about the rumors," she said. "He's a great guy, and he's definitely been a part of my support system."
In fact, she said she's not looking for love at this time at all.
"I have no desire to date right now," Cox told the magazine. "I'm not saying never. It just seems weird. I don't even know how that would happen or how you meet people."
For the full interview, photos and video, go to Harper's Bazaar. The issue of Harper's Bazaar hits newsstands March 29.
RELATED STORIES: