Controversy Down Under: Oprah's Name Blunder Is Revealed on Behind-The-Scenes Show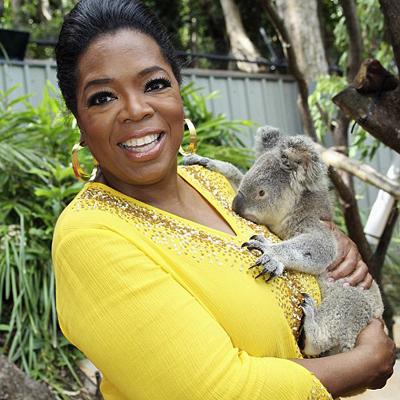 Australia is up in arms after Oprah Winfrey insulted the nation's Prime Minister by likening her name to pig fat!
The porky faux pas is part of behind the scenes footage filmed during Oprah's Down Under tour last year, which is now airing as a documentary-style show called Season 25: Oprah Behind the Scenes on her OWN Network, the Sydney Morning Herald reports.
The talk show queen had trouble remembering how to pronounce Prime Minister Julia Gillard's name when they met in Melbourne last December during her Ultimate Australian Adventure, so she used a mind trick to help her, breaking it into two words: 'gill' and 'lard.'
Article continues below advertisement
"Think of 'lard'. Think of 'lard'. Gill-Lard," Winfrey rehearsed in her Melbourne hotel suite before she met the PM for a walk down the Yarra River. "Gills and the fish and lard? OK, good."
Unfortunately for both Oprah and the Aussie PM, lard means pig fat and many of Gillard's countrymen now think that Winfrey insulted their head of state.
The media goddess released a statement to disgruntled Australians on Wednesday in an attempt to smooth over the situation.
"When I say I love Australia, I mean what I say...I LOVE AUSTRALIA-it was one of the most life changing, mind expanding, once in a lifetime extraordinary experiences for all of us, and I would never want any of my comments taken out of context to make it seem otherwise.
"I have so many great memories. The Reef was breathtaking, Sydney was spectacular, and I was mesmerized by Uluru and so glad I went there. I was overwhelmed by the response of the people of Melbourne and was honored to meet the Prime Minister, Julia Gillard, and to feel the welcoming energy of 10,000 people in Federation Square.
Article continues below advertisement
"I was touched by their warm reception and only wished I had done more to create a deeper connection with them that day. My visit to Australia was the trip of a lifetime for me, my staff and our 302 guests that traveled to your beautiful country. We will never forget it. And I can't wait to come back."
The name mix-up wasn't the only turmoil that the usually calm and collected Winfrey suffered during her interview with Gillard, as the pair were hustled by crowds of screaming fans.
"The reason I didn't stop it is because she is the prime minister, you are in their country and you can't now say 'Can we go get a cup of coffee somewhere?'," Winfrey said. "I couldn't wait for it to be over because I thought 'This is so dangerous. This feels out of control'" .
Oprah said she later had a "sense of emptiness" as she greeted fans in Melbourne's Federation Square.
"Getting thousands of people to show up isn't a big deal. Getting thousands of people to show up and then having something to say to them is a big deal."