AUDIO: The Situation Defends Bombing At Donald Trump Roast: 'I'm Not A Comedian'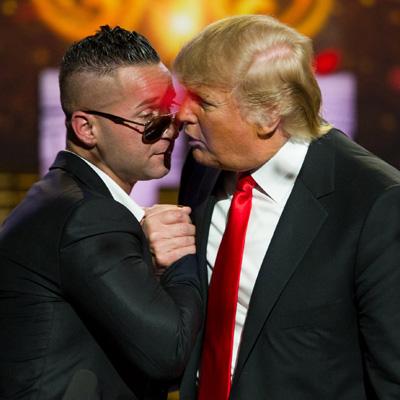 Mike "The Situation" Sorrentino told Ryan Seacrest Thursday that while he admittedly fumbled at this month's Donald Trump roast, he chalks it up to a "learning experience" and will keep on moving with his head held high.
"Nine out of the ten people that were there, they had their own work ... the show's organizers had a script for me, I had a couple hours to learn it, I did my best, and at the same time I didn't know exactly what I was getting into," the man famous for his abs said during On Air With Ryan Seacrest.
Article continues below advertisement
"Maybe I should have studied a little more comedy than using someone else's lines," he said.
Hear the audio on RadarOnline.com
The Jersey Shore heartthrob admitted "the first minute or two was cool" but he "did hear a boo or two," as his monologue turned out to be the equivalent of a comedy grenade.
"I'm gonna keep going, get my composure finish it. I ended up getting applause at the end I'm not a comedian that was my first time at a roast ... at the end of the day, I tried my best and I did learn a lot, as well."
"You try and take all the projects you can and do your best," The MTV superstar said. "It was a learning experience."
Jersey Shore airs on MTV Thursday at 10/9c.
RELATED STORIES: