Whoopi Goldberg Again Says NY Times Guilty Of 'Sloppy Journalism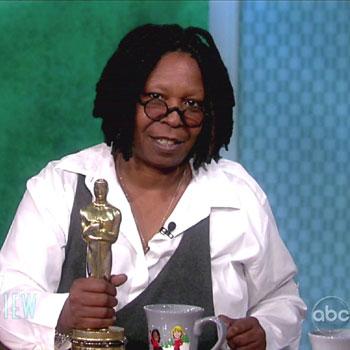 Whoopi Goldberg was hardly apologetic after the New York Times said The View host misunderstood the premise of an article she thought overlooked her Oscar win, saying even if the paper didn't forget her, it's still guilty of "sloppy journalism."
Here's how the brouhaha began:
Goldberg, on Monday's edition of The View, claimed she was infuriated by a Sunday article by critics Manohla Dargis and A.O. Scott about the history of African Americans and the Oscars.
Article continues below advertisement
Goldberg thought her supporting actress Academy Award for 1990's Ghost had been overlooked, leading her to claim she was "dismissed and erased by the New York Times critics who should know better," and implored the paper to "get your facts straight!"
The Times shot back, telling EW that Goldberg had misunderstood the piece.
"The error lies with those who are reading the story incorrectly," the paper said in a statement. "The point of the piece was not to name every black actor or actress who has been awarded an Oscar, it was to draw a comparison between the number who won prior to 2002 (the year Halle Berry and Denzel Washington won) and those who have won since.
"And the story states very clearly that in 73 years, prior to 2002, only seven black actors/actresses won Oscars."
Whoopi's reaction?
"You shouldn't have to read a story five times to get the meaning," she told USA Today late Monday in retort. "It's an erasure. I've made 50 movies, and no mention?"
"It's sloppy journalism -- I've said my piece."
RELATED STORIES: