EXCLUSIVE: O.J. Judge Lance Ito's Nameplate The Hottest Souvenir In L.A. - It Keeps Getting Stolen!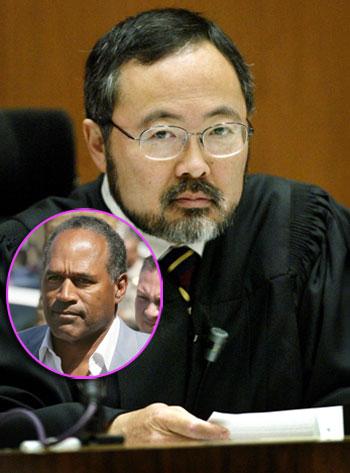 Judge Lance Ito achieved fame when he presided over O.J. Simpson's 1995 televised murder trial, and 16 years later his nameplate has become one of the hottest souvenirs in Los Angeles and is repeatedly stolen from his office door.
The nameplate slides into a holder on the door of Ito's courtroom but you better ask for directions if that's where you're headed because the nameplate is rarely there.
Article continues below advertisement
"Judge Ito's nameplate is routinely stolen," a source familiar with the situation told RadarOnline.com. "The nameplates slide in and out of the holder on the doors, because the judges get reassigned to different courtrooms.
"Officials have lost count of how many times Judge Ito's nameplate has been stolen."
Ito became a household name during O.J.'s Trial of the Century and now is a presiding judge at the Clara Shortridge Foltz Criminal Justice Center in downtown Los Angeles. (Simpson was acquitted on charges of murdering his ex wife Nicole Brown Simpson and her friend Ron Goldman.)
Earlier this week, the door to his courtroom once again had no nameplate, as souvenir-seeking thieves struck again.
EXCLUSIVE: O.J. Simpson's Girlfriend Does Not Want Him Released From Jail
"It's been a running joke, how fast will the replacement be stolen," the source told RadarOnline.com. "Courthouse officials thought that as time went along, Judge Ito's nameplate wouldn't be a souvenir anymore, but it's the opposite.
Article continues below advertisement
"And it's not common criminals taking his nameplate. It would surprise you who has taken it in the past!"
Criminal defense attorneys and prosecutors appearing in Ito's courtroom "refer to it as the Nameless Judge's Courtroom," the source added. "It's all done in good humor. Judge Ito is revered by his peers as being a very low key guy and an excellent judge."
RELATED STORIES: