PHOTOS: Top Five Surprise Celebrity Potheads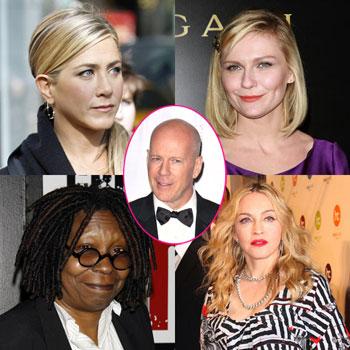 Ever since California legalized marijuana (for medicinal reasons, of course!) it's never been easier for smokers to get their eager hands on the green stuff.
Hollywood seems to be lighting-up all over, and RadarOnline.com can bring you a special photo gallery of all the stoner stars, and our pick of the top five celebrity offenders, some of which may surprise you!
Jennifer Aniston has an image of law abiding, clean-cut all American girl so it may come as a shock that the 42-year-old has made no secret of her love for pot, saying: "I enjoy it once in a while. There is nothing wrong with that. Everything in moderation. I wouldn't call myself a pothead. It's not cocaine or shooting heroin."
Article continues below advertisement
And, when you think of joint toking stoners, the first name that springs to mind isn't Whoopi Goldberg!
But the View co-host went public with her past weed indiscretions in 2009 when defending shamed Olympic swimmer Michael Phelps. "I'm gonna make an admission, I hope you all are sitting down: I have smoked weed," Whoopi admitted to show viewers.
Spider Man star Kirsten Dunst played a character called Mary Jane in the hit movie franchise -- appropriate really considering her love of weed, which is often referred to by the same name!
Dunst confessed to her love for marijuana back in 2009, and claims the world would be a much better place if everyone just partook of the drug, but not too much of it!
She says: "I drink moderately, I've tried drugs. I do like weed. I have a different outlook on marijuana than America does. My best friend Sasha's dad was Carl Sagan, the astronomer. He was the biggest pot smoker in the world and he was a genius.
Article continues below advertisement
"I've never been a major smoker, but I think America's view on weed is ridiculous. I mean - are you kidding me? If everyone smoked weed, the world would be a better place. I'm not talking about being stoned all day, though. I think if it's not used properly, it can hamper your creativity and close you up inside."
Even fitness fanatic, Material Girl Madonna, has confessed to blowing a stick every now and then, admitting she used pot to bond with long-term publicist Liz Rosenberg on the night they met.
"We smoked a joint together," said the singer. She also appeared on the David Letterman show and joked about making a fool of herself, saying "I think it may have had something to do with the joint I smoked before I came on...but I didn't inhale. Doesn't count really!"
Die Hard action star Bruce Willis loves to kick back and smoke a stogie from time to time, but it seems that in the past he's also been known to fire up a little wacky baccy too.
Article continues below advertisement
Willis confessed to Playboy in 1988 that he once got caught in possession of weed by cops, while attending school at New Jersey's Montclair State College. "I rolled two joints, stuck one behind each ear, had a beer in my hand ... a cop stopped me for having a beer in my hand. He reached up behind my ear and goes, 'What's this?' I said, 'Oops, that's a joint' ... I was put on probation for six months."