PHOTOS: Super Sexy Super Bowl Edition! Stars Who Have Dated Super Bowl Winners, Losers & Wannabes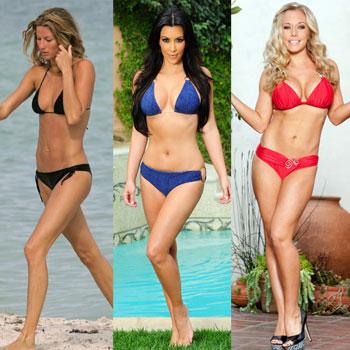 It's kick-off time! The sexiest babes out there who know what the best ring to have is – a Super Bowl ring! As the Pittsburg Steelers and the Green Bay Packers go head to head in the Super Bowl on February 6, RadarOnline.com has a list of the sexiest ladies in Hollywood who date the football super stars.
Who dates the quarterback, the hunkiest guys on the field and which babe's guy has the most Super Bowl wins?
Article continues below advertisement
Supermodel Gisele is the leader on this list, with her hunky husband Tom Brady a three time Super Bowl winner, but the list also includes a killer football rivalry – Kim Kardashian and Kendra Wilkinson.
Check out the gallery to find out which super sexy stars are dating the All-American football players.
RELATED STORIES:
EXCLUSIVE VIDEO: Victoria's Secret Angels Share Sexy Secrets!