PHOTOS: Larry Hagman Spotted Drinking Again - Has He Fallen Off The Wagon?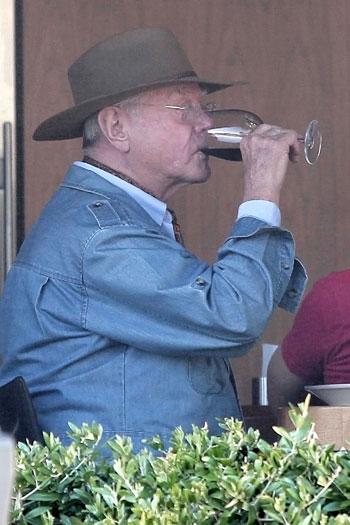 It's something only dastardly J.R. Ewing would approve of – having some red wine after receiving a new liver – but it looks like actor Larry Hagman may still be having trouble kicking alcohol, RadarOnline.com can reveal.
The popular actor – who is set to return to Southfork Ranch for a pilot of the updated version of the TV series Dallas - was photographed guzzling what appears to be a glass of red wine with a friend at a restaurant in Santa Monica, CA.
Article continues below advertisement
The 79-year-old star underwent a life saving liver transplant in 1995 after admitting that he had been a heavy drinker for over 30 years, destroying his original organ.
A married father-of-two, Hagman has admitted in the past that he has continued to drink despite attending Alcoholics Anonymous and being given a new lease on life through his transplant.
In 2004, the actor told the website UltimateDallas.com, "I was breaking the rules. I didn't tell the group about it.
"That is 'going-out' as they call it – a beer a month, a beer a year, a beer every 10 years, is 'going out', you are not supposed to drink anything.
"When the story came out, I had to go back to the meeting. I threw down the magazine and I said: Here is what I have been doing.
"It wasn't difficult to do. People do it all the time. There was no criticism. They don't shoot the wounded at AA. It wasn't like I was going out and getting drunk and crashing the car, beating my wife.
Article continues below advertisement
"I don't need alcohol any longer and I don't crave it. It might start me again. I don't want to disgrace the AA movement by going back into that sort of behavior.
"I don't hate myself for it. I have never hated myself for anything – which is maybe part of the problem."
But although the actor is good at rationalizing his drinking habits, more disturbingly he was spotted getting into and driving off in his electric cart following his outing at the R + D Kitchen.
Hagman, who spends a portion of his time in Ojai, California, has been seen by at least one local resident who claims he's witnessed the actor drinking as well. 

"I've seen him a couple of times leaving bars and he's been swaying and appeared to me to be visibly drunk. I've walked into restaurants before and seen him downing red wine, as well as beer, it's definitely not a one-off thing – he seems to me to be a habitual drinker."
Calls to Hagman's manager and TNT for comment have not been returned.
RELATED STORIES: