PHOTOS: Kardashians Glam Up For Silly Bandz Launch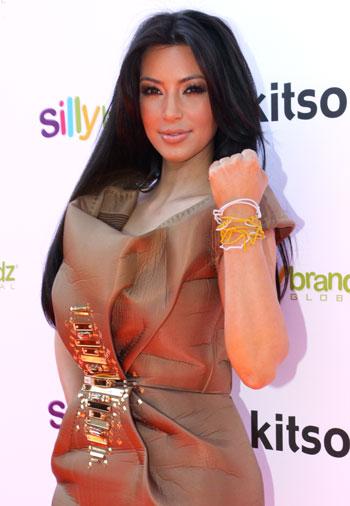 It was a Kardashian-crazed Friday afternoon at Kitson in Beverly Hills, where Kim, Kourtney, Khloe and their mother Kris, launched their very own collection of Silly Bandz.
While the rest of her family opted for causally chic duds, Kim glammed up her wristful of Kardashian shaped rubber band bracelets, showing off her covetable curves in a sexy, jewel-embellished gold mini dress and Brian Atwood heels.
Article continues below advertisement
Kim excitedly tweeted last month about the collaboration: "We have our own SillyBandz," she tweeted. "How fab is our Glam pack?"
The Kardashian Glam Shapes include a perfume bottle, kiss lips, a high heel shoe, Kim, Kourtney and Khloe Kardashian, sunglasses, a diamond ring, a purse as well as the words DASH, Glam, and the letter K.
The Kardashian Silly Bandz retail for $5.95
RELATED STORIES: