PHOTOS: Ashley Greene Celebrates Birthday With Joe Jonas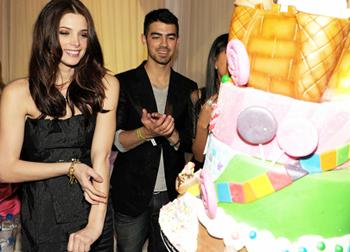 Ashley Greene turns 24 on Monday and she got the party started early Saturday night at PURE in Las Vegas.
After months of at least trying to keep their romance on the down low, Ashley and Joe Jonas were very openly together for the big night.
Joe was beaming when the folks at PURE brought out a huge cake and the 21-year-old even joined in when the crowd sang 'Happy Birthday.'
The Twilight cutie and the Jonas Brother have been dating since August.  She opened up about the romance for the first time in the March issue of Teen Vogue, saying Joe is "sweet and really funny."
Article continues below advertisement
Ashley is breaking out of Twilight for her next movie. She's starring in The Boom Boom Room with a couple of Hollywood's most eccentric legends, Shirley MacLaine and Christopher Walken.
RELATED STORIES: