Oprah's Ex-Lover Says TV Queen Was 'Cold As Ice'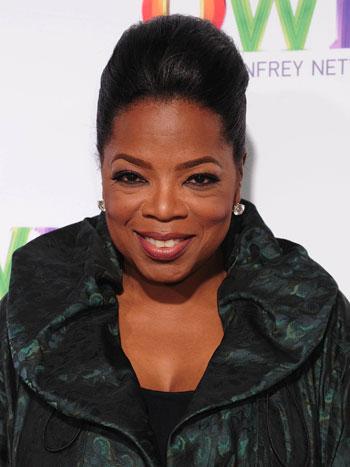 Move over Stedman, here comes Reginald!
Before Stedman was Oprah's main man she had another main squeeze that no one ever knew about – Reginald Chevalier.
On Tuesday, Gawker.com released an interview with Oprah's former flame who talked about their brief courtship and the day the talk show queen locked him out of her home and her life - without even a phone call or goodbye, calling her "cold as ice."
Article continues below advertisement
So who is Oprah's former lover? He's a Haitian filmmaker, who met the media mogul when he appeared on her show in 1985 to do a look-alike segment – and on the same day, the two began their four-month-long affair. He was 25 and she was 32.
"She was doing a segment on look-alikes and at the time I looked like Billy Dee Williams," he told Gawker. "She later confided that she instructed her producers to keep me backstage after the show. She threatened to fire them, if I got away. She took me to lunch at the Water Tower restaurant and ordered stuffed mashed potatoes for both of us."
Chevalier contacted Gawker and recalled his memories of his short-lived relationship with Oprah, including candlelit baths, watching TV, shopping, frequenting Chicago Bears football games and outings with celeb friends.
"I remember how she loved taking candle-lit baths before going to bed," he told Gawker. "We took lots of them together. We spent many nights together in her new condo which she loved so much. I would be watching TV and she would be working on her next day's show. ..Besides going to restaurants for lunches and dinners, to stores to buy gifts for employees and friends—Oprah is generous with stuff-we would go to the Bears games because I was friends with one of the players. We occasionally had dinner with Michael Jordan and his wife, Juanita, or with Danny Glover, Oprah's co-star in The Color Purple."
Article continues below advertisement
In the bestselling Kitty Kelley book "Oprah: A Biography," the author recounts Oprah's other suitors, including John Tesh, radio DJ Tim Watts, and Randy Cook.
Oprah has been with longtime boyfriend Stedman Graham for over 25 years and the twosome were even engaged at one point in 1992 but never tied the knot. But according to Chevalier, it only took Oprah a matter of months to bring up taking the commitment plunge.
"I noticed a few times she would bring up the subject of marriage and ask me if this was something I believed in," he told Gawker. "I think at that time Oprah was ready to take the plunge, and I was the chosen one… but I wasn't interested in getting serious…. Oprah took me to her mother's house for dinner in Milwaukee and that's where I met Jeffrey, her gay brother who died of AIDS in 1989. Oprah said to him, 'You stay away from this guy. He's mine.'"
Article continues below advertisement
And Oprah wasn't afraid to show off her new guy in public—they attended the Chicago premiere of The Color Purple —where even then she took her fashion very seriously.
"Oprah bought a purple mink coat for the occasion and wanted me to wear purple mink as well but I just couldn't do it."
And, like nowadays, her BFF Gayle King wasn't far behind.
"If you look carefully, you can see part of Gayle King's face in the lower left of the picture," he said. "Gayle was always around. Everywhere we went she was there. She was Oprah's shadow."
But the star treatment ended for him in April 1986 when Chevalier was locked out of her home – literally—and his belongings waiting for him.
"I had been out of town on a modeling assignment and when I returned to the Water Tower condo, my key wouldn't work. The concierge informed me that the locks had been changed. Oprah had left a box for me filled with all my belongings. On a yellow envelope she had written: 'Sorry, things aren't working between us. Oprah Winfrey.' That was it. No phone call. No good-bye. Nothing. She was as cold as ice…. A few weeks later Stedman was on the scene—full time."