VIDEO: Kirk Douglas Makes Surprise Appearance At Oscars - And He's Still Got It At 94!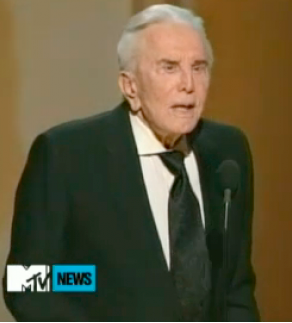 Kirk Douglas made a surprise appearance at the Oscars Sunday, and proved he's still got it, at 94 years old!
The veteran actor presented the award for Best Supporting Actress and he turned on the charm, and cracked jokes which had the audience in stitches.
Before introducing the nominees Douglas quipped to host James Franco that he looked better out of a cave - a reference to Franco's nominated role in 127 Hours.
Article continues below advertisement
He then flirted heavily with Franco's co-host Anne Hathaway: "She's gorgeous! Where were you when I was making pictures?"
Douglas lightly ribbed Hugh Jackman and Colin Firth before returning his attention to the ladies once again.
Announcing the category winner, Melissa Leo, Douglas told the actress: "You're much more beautiful than you were in the fighter!"
Leo shot straight back: "You're not so bad yourself...what you doing later on?"