Jennifer Aniston Launches Her New Fragrance In The U.S.!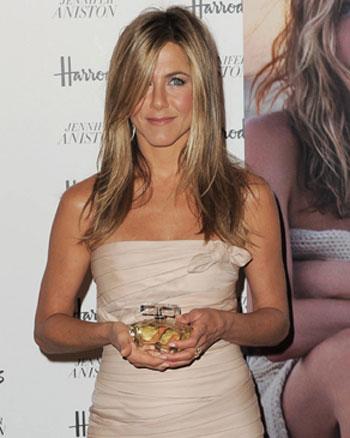 If you want to smell like Jennifer Aniston, than today is your lucky day! The former Friend is launching her first U.S. fragrance, Jennifer Aniston, exclusively at Sephora.com on Thursday. In late March, the fragrance, which has been available in Europe since last year, will hit the shelves of Sephora stores nationwide.
"I wanted this fragrance to be a personal library of scent memories," explains Aniston of her custom created scent, which drew inspiration from her Southern Californian roots, her worldwide travels and love of the outdoors.
Article continues below advertisement
"For example, my love of Night Blooming Jasmine has lasted a lifetime. Growing up in California, I distinctly remember the scent of the Jasmine on summer evenings," comments Aniston.
The bottle is inspired by Jennifer's love and appreciation of architecture. The design was part of the overall brand development, which David Lipman of Lipman was tasked with creating. The bottle references the flow of a Frank Gehry building combined with the fluidity and organic form of a cresting wave.
The fragrance will be available in the following sizes: 1oz, 1.7oz, and 2.9oz and will retail for $39.00, $55.00 and $70.00 respectively.
In support of Aniston's continued charitable works, $1 of each Jennifer Aniston fragrance "LIKE" achieved on Sephora.com/Sephora's Facebook page will be donated to St. Jude's Children's Hospital.