James Franco Skips Out On His Own Party After Critically-Panned Hosting Gig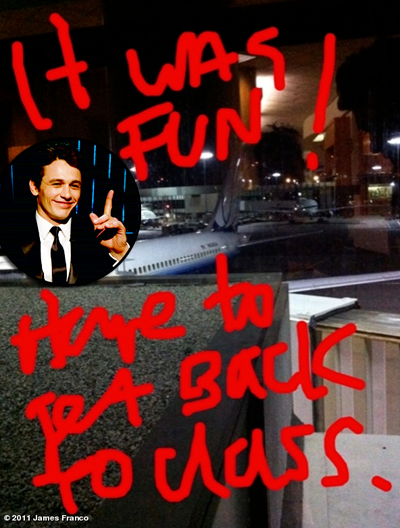 James Franco reportedly didn't show up for his own post-Oscars party at Los Angeles' Supper Club Sunday, as the dashing star, possibly upset by his performance on the show, tweeted a pic from his private jet while leaving the City of Angels.
"Goodbye L.A.," Franco wrote in one pic from aboard his plane, and in another wrote, "It was fun! Time to jet back to class."
While Franco's bash was attended by stars such as his Pineapple Express co-star Seth Rogen and two-time Oscar winner Kevin Spacey, an insider at the affair summarized it as a "bust ", according to usmagazine.com.
Article continues below advertisement
And while Franco's getting knocked some for his job co-hosting with Anne Hathaway, no one can dispute that the 127 Hours Oscar nominee broke new ground when it came to giving fans a behind-the-scenes look at his big night via the social networking giant that is Twitter.
The Spiderman stud linked to a photo of he and Hathaway posed alongside media icon Oprah Winfrey, and another one with longtime host Billy Crystal. In addition, we saw him getting dressed up in drag, and even a self pic from the stage.
Franco also showed a video of Hathaway relaxing him with a hand massage, and he and one of the show's writers discussing how the show was going during the actual event.
While might have been jeered for his performance, Franco's insightful, behind-the-scenes Tweets gave plugged-in users a unique look at Hollywood's biggest night through the eyes of one of its' freshest faces.
RELATED STORIES: