Frugal Fashionsta! Helena Bonham Carter's $10 Bling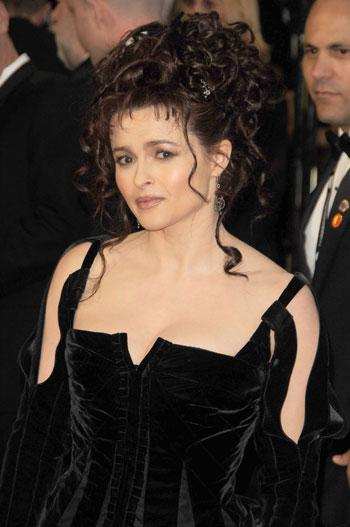 While other stars turned to jewelers like Tiffany & Co., Neil Lane and Cartier to bling them out in millions of dollars worth of jewels, The King's Speech nominee turned to footwear company FlipOut Sandals to complete her wacky look, wearing a $9.99 flip-flop accessory in her hair!
Shying away from the regular designers, the eccentric Brit turned to costume designer Colleen Atwood to create an Edwardian bustle dress for her, which was constructed out of velvet and taffeta. Wearing a Union Jack garter on her calf, black platform heels and carrying a fan clutch, the star finished off the look with a "crown jewel" in her hair, which her mother picked up at a swag suite earlier in the day.
MORE ON:
hollywood happenings
Article continues below advertisement
Mama Bonham Carter headed to the EXTRA Luxury Lounge on Sunday, where she picked up some items for Academy Award nominated daughter. When she brought Helena a pair of the FlipOut sandals, the actress literally flipped out over them, sending her mother back to pick up the crown jewel accessory she ended up adorning in her hair.
Now that's what we call a frugal fashionista!
RELATED STORIES: