EXCLUSIVE INTERVIEW: Monique Coleman Grows Up, Talks Fame & Philanthropy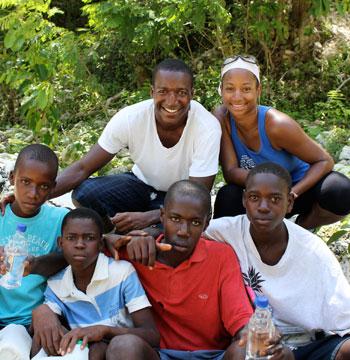 Monique Coleman has been keeping busy since her High School Musical days, with independent film roles and her popular youth-empowering website and talk show GimmeMo.com.
Recently the gorgeous star was named the first-ever United Nations Youth Champion, which will take her on a UN World Tour to raise awareness on youth issues. The philanthropic starlet took some time out of her jet-setting life to talk philanthropy, fame and life after Disney.
Article continues below advertisement
How She Manages To Stay Down To Earth In Hollywood:
"My foundation is rooted in southern values and I've always made an effort to remain grateful and humble. I didn't actually grow up in Hollywood. I'm what the chain restaurant Cracker Barrel calls 'good grits,' a good girl raised in the south."
On Why She Always Keeps Her Personal Life Out Of The Press:
"I think artists can be a little too open. When you invite people into all areas of your life you are open to as much criticism as praise. People focus on my work, not on my personal life, which is how I prefer it."
On Why She Decided To Put Her Ideals Ahead Of Her Acting Career:
"I chose to give youth empowerment the lead role in my life because I felt in my heart, if not now, then when? There will always be acting roles to play and opportunities to do self-serving ventures, but time doesn't slow down for anyone. Before I got comfortable just being an actress, I wanted to challenge myself to do the one thing that's harder....just being myself. Starting the website, producing and hosting the show, and building the foundation has literally taken up so much of my time. I could not have devoted myself to it if I was still chasing the next big role. I intend to return to film & TV once GimmeMo has truly put a stake in the ground."
Article continues below advertisement
On How She Got Involved In the UN World Tour:
"I felt like I couldn't speak on behalf of youth or give voice to their issues without actually meeting young people from all around the world. Also, where I am in my life, I want to grow and expand beyond my own personal perspective to become moral and well rounded."
On Her Role Models:
"My biggest role model is probably the late Dr. Martin Luther King Jr. His commitment to peace & justice for all is what I admire most. I also love 'the queen' otherwise known as Oprah. And, of course my mom. She taught me that there is no obstacle that can stand in the way of your dreams unless you allow it to."