EXCLUSIVE INTERVIEW: LeVar Burton -- Celebrating A Birthday & Getting Back To His Roots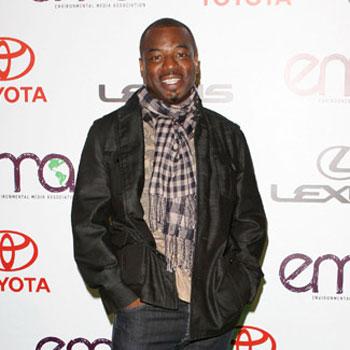 Happy Birthday to our pal Mr. LeVar Burton!
The talented actor, producer, director and author celebrates his 54th birthday Wednesday, so RadarOnline.com sat down with the multi-Emmy, Grammy, and Peabody Award winning star to talk about his legendary career that has spanned more than 30-years.
At the age of 20, Burton, a then college student and unknown aspiring actor, became an overnight star with his powerful performance as Kunta Kinte in the 1977 groundbreaking ABC mini-series Roots, which traced the family history of author Alex Haley, and by doing so, gave a face to the shame of slavery in the United States.
Article continues below advertisement
His iconic performance earned him an Emmy nomination and launched a career that continues to thrive to this day. In fact, during February, Burton will guest star in two popular TV comedies.
Radar: First Happy Birthday! How do you plan to celebrate?
Mr. Burton: I'll be on the road. I have a some personal appearances on Thursday and Friday in Kansas City Missouri, so Wednesday is a travel day for me. I actually like working on my birthday.
Radar: I thought we'd begin by taking a look at the beginning of your career. When you were cast as the lead in Roots, you were a young, aspiring actor. How did it happen?
Mr. Burton: Mine is truly one of those unbelievable Hollywood stories. Roots was my first professional audition. I was a sophomore at USC, working towards my BFA in Theater. My goal at the time was Broadway, not Hollywood. The producers had been on an exhaustive search all over the country and still had not found what they were looking for so they came back to LA and broadened the casting net. They contacted Drama schools in the area. I was in the right place at the right time.
Article continues below advertisement
Radar: Roots was broadcast in 1977. Could this groundbreaking mini-series have been made ten years earlier -- or even ten years later? What was it about that year, 1977, that made the timing right?
Mr. Burton: I don't believe Roots could've happened ten years earlier in America, nor ten years later for that matter. Socially, the timing was perfect in every respect. The Civil Rights Movement had succeeded to the point where America was accustomed to accepting Black people as equal citizens in this society. Then came the Vietnam era which forced us to take an unvarnished look at ourselves and our politics. By the time the late seventies rolled around, I think we were finally ready to deal with the issue of slavery and how its legacy has impact even to this day.
Radar: How do you possibly prepare for a role as intense as Kunta Kinte? As a young man, how did you wrap you psyche around that part of American history that dehumanized an entire group of people?
Mr. Burton: From my very first exposure to the material I felt as if I had been preparing for this role my entire life. I identified so strongly with Kunta at every step along his journey. We had a very strong connection, he and I.
Article continues below advertisement
Radar: Alex Haley, the author of the novel, Roots: The Saga Of An American Family, was born in 1921, so he, no doubt, personally experienced the injustice of racial segregation. Did he help you prepare for the role in any way?
Mr. Burton: The night before we started filming the scenes that took place in the hold of the ship, Alex brought me a galleys copy of the novel, which had yet to be published. He had bookmarked the "Middle Passage" and I sat up all night reading. That was great!
Radar: In 1986, Gene Roddenberry approached you to play the role of La Forge in Star Trek: The Next Generation. Were you a fan of the series? Did you realize at the time that once again, as you did with "Roots", you were entering into iconic terrority?
Mr. Burton: Working with Gene was a dream come true for me. I was a huge fan of the original Star Trek. I've always been a fan of the Sci-Fi genre and Gene's vision was all about diversity. He put a Black woman in a visible position of authority on TV at a time when there weren't many people of color on TV at all. It's so important for human beings to see themselves reflected in the popular culture. Otherwise it's incredibly difficult to develop any positive sense of self.
Article continues below advertisement
Radar: Star Trek fans are known for their devotion, to say the least. Any bizarre encounters with "Trekkies?"
Mr. Burton: I consider myself one of them. I get their passion… I share it. So the behavior would have to be pretty extreme in order for me to consider it bizarre. I believe fantasy/role play is a very healthy form of creative expression. We don't do enough of it as adults. So you won't find me knocking folks who create characters for themselves and dress up on the weekend.
Radar: You first started directing while you were an actor on Star Trek and would later direct many TV shows, including other future incarnations of the Star Trek franchise (Deep Space Nine, Voyager) as well as shows like Charmed and JAG. Why did you want to also step behind the camera?
Mr. Burton: This is an inherently tough business. Ups and downs are a given. One day you're hot, the next you're not! I simply believe it's a good thing to be able to do more than one thing. Survival 101. As a producer on Reading Rainbow I had gotten used to being more at the center of the creative process. I recognized early on that ST:TNG could provide an opportunity to learn how to express myself creatively as a director as well.
Article continues below advertisement
Radar: One thing that's especially interesting about your career is that your fan base literally spans generations --from "Roots" -- to "Trekkies" -- to kids through your Emmy and Peabody winning role as host and executive producer of Reading Rainbow for PBS. Why is educating young people so close to your heart?
Mr. Burton: I believe in using this incredibly powerful medium to do more than simply entertain ourselves and sell ourselves more stuff we don't need! In the history of civilization there has hardly been a more powerful tool for education, inspiration and enlightenment.
Radar: Even though many people probably think of you first as a dramatic actor, you will be guest starring in not one -- but two -- TV comedies this month. Tell me about your appearances on NBC's Community and on CBS's The Big Bang Theory.
Mr. Burton: People don't automatically think of me as being funny, so I'm excited, at this stage of my career, to be able expand peoples' idea of who I am and what I can do.
Article continues below advertisement
Radar: Martin Luther King Jr. has played an interesting role in your career, and I would imagine in your life. In 2000, you won a Grammy Award for Best Spoken Word Album for The Autobiography of Martin Luther King, Jr., and then in 2001, you played Dr. King in the film "Ali". Was it daunting to play him?
Mr. Burton: It's weird. I do have this interesting relationship to Dr. King in my life and in my career. I played him for the first time in a school play back in the 6th grade. As great an orator as King was, we sometimes overlook what a phenomenal writer he was. As a genuine believer in the power of the written word, I marvel at King's prose. He was a great writer.
Radar: With everything you've accomplished, what's next for you?
Mr. Burton: For the past year my business partner, Mark Wolfe (Burton/Wolfe Entertainment) and I have been building a digital media business. We are building a curated platform/service for the distribution of enhanced/interactive children's books. I'm very excited about taking the experience of Reading Rainbow and making it available to today's kids who are online and wired. The iPad has proved to be a very disruptive force in the delivery of entertainment and education in the kid's space and books have always been an integral part of how we connect kids to both their imaginations and the world, which they inhabit. I believe it's a marriage made in heaven.
Article continues below advertisement
Radar: Finally, even though you've been in the public eye for more than 30-years, can you share, five things that your fans may not know about you.
Mr. Burton: I studied for the Catholic priesthood for 4 years. Used to have Yoga classes on the Enterprise sets during lunch breaks when we were filming Star Trek: TNG. I'm very fond of Irish Whiskey. I am addicted to Family Guy. My granddaughter is a member of the current National Champion Hip-Hop Dance Team.
Mr. Burton will appear on NBC's Community on Thursday, February 17 and on CBS' The Big Bang Theory on Thursday, February 24. Also look for Mr. Burton to appear on William Shatner's interview program Raw Nerve on the Bio Channel this season.
Interview conducted by Neil J. Woulfe, News Director for RadarOnline.com, 8-Time Emmy Award winner and recipient of the Edward R. Murrow Award for excellence in journalism.