EXCLUSIVE DETAILS: Kelsey Grammer and Kayte Walsh's 4Ft Wedding Carrot Cake!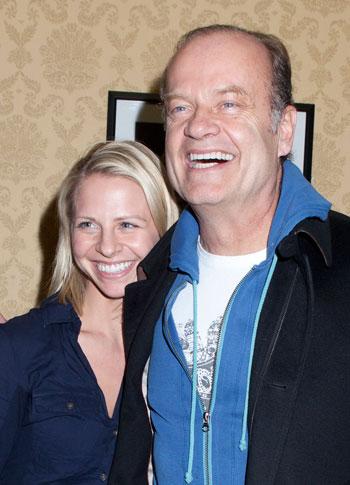 If you're going to get married at New York City's famed Plaza Hotel, you need a grand wedding cake to go along with the ambience - and that's exactly what soon-to-be newlyweds Kelsey Grammer and Kayte Walsh have ordered.
Designed by wedding cake designer extraordinaire to the stars, Silvia Weinstock, guests won't be able to take their eyes - or tastebuds-off from the cake. It's 55 inches tall (over 4 ft.!) and serves at least 200 people.
Article continues below advertisement
"It's a grand look," Silvia told RadarOnline.com exclusively. "It's very elegant and pretty."
According to Weinstock, the happy couple wanted ivory cream, gold sugar flowers of bud roses and lilies at the top and cascade down around the cake, and everything is handmade with buttercream.
"Multiple decorators work on each flower and the body work. It does take a whole village. It's a showstopper cake."
And don't expect the typical chocolate or vanilla-- the vegetarian bride has made an unusual - but tasty-flavor request.
"It's carrot cake!" Weinstock told RadarOnline.com. "It's unusual. But obviously she's very comfortable in her skin and that's what she wants so that's what she's going to have."
Inside the multiple-shaped cake will be carrot, cream cheese, coconut and caramel.
"It's very rich."
Kayte brought Kelsey and her mother along to meet with Weinstock to choose her dream confection.
Article continues below advertisement
"They're starting out wonderfully because they're sharing everything together," Weinstock said.
"Meetings with me are never short. I want to know everything about their lives to make their dream cake," Weinstock said of their "divine conversation."
"We became friends; it's a bonding experience. Kayte was lovely and very nice. She was very excited as most brides would be."
Although Kelsey chimed in from time to time, Weinstock said the cake's vision was all about Kayte.
"They're very differential with each other, caring, polite, and calming. And whatever she wanted it was fine with him," Weinstock said.
The cake will be delivered on Friday just before the ceremony begins.
RELATED STORIES: