Celebrity Rehab's Mike Starr Asked Cops: 'Have You Heard Of Alice In Chains?' Before Arrest On Drug Charge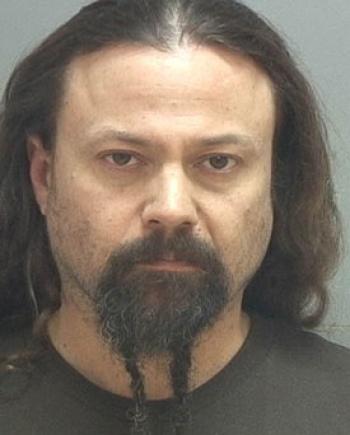 Mike Starr -- Alice In Chains' original bass player who would go on to appear on VH1's Celebrity Rehab -- is facing felony drug charges in Salt Lake City, Utah, and shortly before his arrest asked cops if they had heard of his band, RadarOnline.com has learned.
POLICE DOCUMENT: Read Arrest Report
According to the police report, police in Salt Lake City Thursday at 1:30 a.m. pulled over a large van that Starr was a passenger in when an officer noticed the vehicle cross a median.
Article continues below advertisement
The driver -- identified as Travis Meeks -- told the officer he did not have a valid driver's license; he said it was suspended in Kentucky.
The report goes on to say that Starr then said: "Hey Officer, have you heard of Alice in Chains? I used to be the base guitarist for them. We are down here in Utah, me and Travis putting together a new band."
When the Officer did a background check on Starr he found "the passenger (Starr) had a felony warrant for his arrest..." The Officer then writes his partner told him: "Hey, I saw the passenger taking these when I walked up to the side of the car. The passenger told me they were Suboxone." (Suboxone is a drug used to treat opiate addiction) In the report, the officer noted that the pill bottle had the name information scratched off the bottle.
"The driver ( Meeks) was issued a traffic citation for driving on a suspended license and released," according to the report. "After verifying the outstanding felony warrant, I got Mike Starr out of the vehicle and placed him into handcuffs", the Officer writes.
The report states that the officer contacted Poison Control for help in identifying the pills. The report says Starr had six pills of a painkiller called Opana and six pills of the anti-anxiety drug Xanax.
Article continues below advertisement
According to the report, Starr did not have a prescription for either drug. He was booked on two felony charges of possession of a controlled substance.
Starr, 44, was still in custody early Friday, being held on a $20,000 bond.
Starr kept Alice In Chains' bass-lines rolling from 1987 to 1993, when the Seattle innovators churned out hits such as Man In The Box, Them Bones and Rooster.
He later appeared on Celebrity Rehab in 2010, where he tried to get rid of his heroin habit alongside personalities such as Hollywood madam Heidi Fleiss, basketball oddball Dennis Rodman and country crooner Mindy McCready.
In a statement to RadarOnline.com, Dr. Drew Pinsky told us: "Mike Starr's addiction is so profound that I always have to be prepared to expect anything."
RELATED STORIES: