AUDIO: Piers Morgan Faces Off With Howard Stern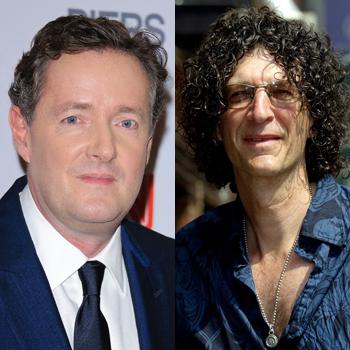 CNN host Piers Morgan appeared on The Howard Stern Show Monday in the wake of a flare-up between the media giants, though after a few early words, the two got along fine, with Stern even offering the CNN host advice on how to get his ratings up.
Hear the audio on RadarOnline.com
As RadarOnline.com previously reported, Stern last week said he ran into Morgan at a New York Knicks game, and that CNN host was "walking around like he's the new king of late night cable ... like stop going around bragging like you're gonna be the next Barbara Walters, or something.'"
Article continues below advertisement
On Monday, Stern told Morgan, "Piers, let me clear this up, first of all: A. I told you after the interview I liked you."
Stern said he didn't like the way Morgan was positioning himself in a rivalry with Stern, even using the moniker "King of All Media" to rankle the New York-based radio icon.
Stern said by acting grandiose, Morgan was setting himself up for a beating from the media the minute his ratings plummet, and he should play it more low-key if he wants to be successful in the states.
Morgan said, "My show is 220 countries to 350 million people ... I've come here to say to you, 'Howard -- hand over the throne!'"
"CNN reaches 350 million people -- you don't -- you're reaching three people!" Stern responded.
Stern emphasized he likes Morgan dating back to his gig on America's Got Talent. Stern asked Morgan if he thought Larry King was hoping for a comeback in the wake of Morgan's tepid opening, but Morgan praised King as a man he's got huge admiration for and "one of my idols when I grew up."