AUDIO: Jennifer Aniston In Awe Over Nicole Kidman's Abs!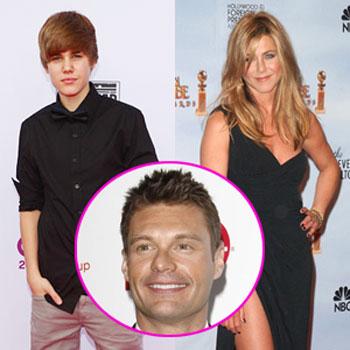 Birthday girl Jennifer Aniston went on Ryan Seacrest's KIIS FM show Friday, and dished about her ab envy...
In fact, the actress, who was talking to Seacrest about Just Go With It seemed much more interested in praising her co-star Nicole Kidman's anatomy than in promoting her new movie!
AUDIO: Jennifer Aniston Gushes About Nicole Kidman's Abs
"I walked up to her and said I'm sorry, can I touch your stomach," Aniston told Seacrest. "I had to touch it. Is that spray painted? What is that? And that's rock solid...I think it's 9-eight packs."
Article continues below advertisement
Aniston, who is equally famous for her own rock hard abs and killer bikini body, told Seacrest that obtaining a mean mid-section isn't rocket science.
"It's just sit-ups," Aniston shared. "And yoga, because that's all core. We did yoga a couple of times out there in Maui."
Just Go With It which also co-stars Adam Sandler, is about a plastic surgeon who is on a weekend trip in Maui and convinces his assistant, played by Aniston, to pose as his soon-to-be-divorced wife in hopes of covering-up a lie he told to his much-younger girlfriend, played by Brooklyn Decker.
The movie hits theaters Friday, February 11.